So how is your holiday shopping going? If you're like most Americans (myself included), there are definitely some more gifts to buy — perhaps for others or even for yourself! (I'm still working on my boyfriend gift this year.) With that in mind and only 9 more shopping days, I've been scouring all the latest and greatest items in the world of jewelry. With so many stunning choices, which way to turn? Well, whomever the gift is for, don't forget to take the recipient's personal style into consideration.
During my 6-part series, Jewelry Box Basics, I discussed what jewelry each person should have in their jewelry box, based on their personal style: the lady who lunches, bohemian, rock star, minimalist, romantic, and the trendy gal. Of course, practically no one fits into one tidy box, but this still provides a framework with which to hit the jewelry store or your favorite online site. Here are some suggestions for Santa on what you might put under the Christmas tree.
The Lady Who Lunches
Pearls and studs are a mainstay for this personal style. Once you've got the basics covered, it's time to branch out. Alexis Bittar is a great fit for this lady, and he recently came out with an oo-la-la fine jewelry line. I think this multi-strand pearl necklace is so unique!
Look at the detail of aquamarines, green amethysts and gold on the multiple layers of grey pearls.
If a new pair of studs is in order this year, then I think these grey diamond slice lovelies by Sethi Couture would certainly do the trick!
The Bohemian
True, I have a strong Bohemian influence in my own personal style, so I know that adding a statement ring to the jewelry box is always a good idea. Here are a couple that have really caught my eye. First is a unique horizontal design by Jemma Wynne. I had the opportunity to try it on last week, and it looked spectacular — plus it was so comfortable to wear!
For an even bolder statement, I turn to one of my all-time favorite designers, Rona Pfeiffer. Take a look at this major ring!
The Rock Star
Do you have a rock star on your list? I'm sure that her jewelry box is in need of refreshing as well. And what better way to do that, than by one of the edgy ear cuffs that are hitting the market? If this is a more refined rocker, then I think this ear cuff by Repossi would be perfect.
And if she's into something a little more "raw," then I recommend this one by Mania Mania.
Here's how it looks on the ear.
The Minimalist
In stark contrast to the Rock Star, this personal style thrives on clean lines, and fewer choices in the jewelry box. But don't let this scare you off — you can still find the perfect addition to make her smile. Likely, she has a pair of simple studs in her collection, so how about you give her a pair with just a small twist? This small cluster design by Jacquie Aiche is perfection.
A slim, low-profile ring would also be a solid (yet sparkling) choice. This band by Melissa Joy Manning is simple beauty, in white gold with black diamonds. It's easily captivating on its own or stacked.
The Romantic
This time of year doubtless stirs up feelings of nostalgia and sweet smiles for this personal style. Since many of the pieces in her jewelry box are most certainly family heirlooms, selecting a gift with a nod to the past is wonderful. I came across this unique necklace by Ginger Peachy, made from a vintage pin centered on a rose gold chain. Love it!
Or how about this delicate boulder opal ring by Armenta, which is sure to become a favorite!
The Trendy Gal
There are so many jewelry trends going on right now, that this is one of the easiest personal styles to shop for. Definitely a trend on the rise, the hand chain (otherwise known as a slave bracelet) is popping up from coast to coast. Here is a clean design by Blee Inara that might delight her.
Here's how it looks when worn.
Chains are appearing everywhere, and here's a very on-trend ring by Djula that proves it.
If "brand names" are something that she's into, then you can't go wrong with a bracelet by Vita Fede. There are SO many different metal colors and styles, that it'll be tough to make a choice.
I've seen endless permutations of stacks that incorporate them.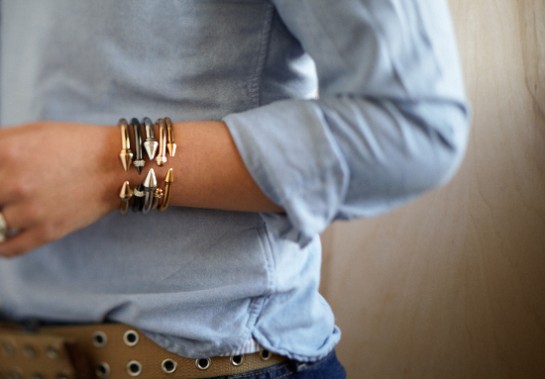 Now I know that many of the pieces in this article may not be in your shopping budget. (They certainly aren't all in mine!) But don't let that discourage you. It's possible to find the "look" at a variety of price points. Just use this as a jumping-off point to find the perfect gift. I'd love to know what you find!!