You may have heard them called ear climbers, ear crawlers, and even ear cuffs. But the common denominator is that these earrings are not your typical pair. They are often singular or mis-matched, and they quite honestly, crawl up your ear a bit. Over a year ago I wrote an article about this trend (click here to read it), and it appears to be one that's not just a flash-in-the-pan. Not only are the celebrities wearing them, but it's hitting the streets all over.
I have to admit, I'm intrigued. As I always tell my clients, there are going to be lots of trends out there each season, but that doesn't mean you need to adopt them. Just stay true to your personal style, and try the ones that really resonate with you. Well, my personal style, which I define as "urban bohemian," was all over trying this out, but in a more understated way. So off I went on an internet shopping spree, and the next thing I knew, my UPS guy was knocking at my door. I chose this topaz and ruthenium pair by
Elizabeth and James
(gotta love the Olson twins!) for my first attempt. Can I say love at first wear?!
Yes, this is a matching pair, but I thought it was a nice, not-too-extrme way to try it all out. And I must say that on my first three days wearing them, I've been stopped numerous times with inquiries. It did take a little maneuvering to get them to stay in the right place. I've squeezed the cuff part to really grab my earlobe so that they don't droop down during the day.
Now, I want to explore the next step, where I have a crawler in one ear, and just a stud or hoop in the other. Here are some of the options I'm exploring. First is this gorgeous bezel-set earring by
Jacquie Aiche
.
If your personal style is a little more rocker, then these
graduated spikes by Smith + Mara
might get you going.
Perhaps your style is more feminine and whimsical. Then Jennifer Zeuner may have you pegged with these
butterfly
or
pearl
renditions.
Even the minimalist can find an interpretation of this trend. This
cutout design
, again by Smith + Mara, is so sleek and simple yet it is still just so much more than your average earring.
If you want to take things just a step farther, then take a look at these
bedazzled vines by Ca & Lou
. They are definitely more of a statement.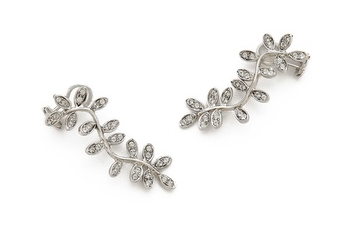 And for the grand finale, I think this
black diamond star by Milka Star
is pretty spectacular. What a way to spice up your outfit!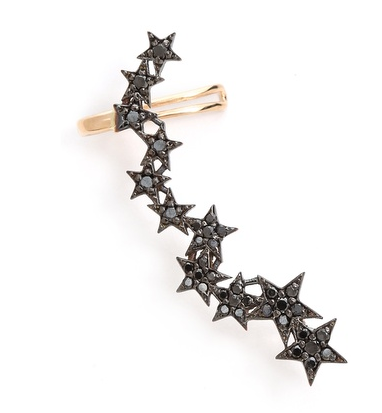 So what about YOU? Is this a trend that appeals to you? Are you going to try it out? Or is this one you'll reserve for viewing on the pages of fashion magazines? Please post your comments and photos!