As I sit down to write this article, I'm still recovering from the whirlwind weekend I just had in Beverly Hills. Did I really exchange words with Meryl Streep? Yep. And did I get a photo with Elizabeth Moss while she was holding her award? That happened. For a star-gazer like me, it's all sort of a dream. So buckle in, my friends, this is going to be a long post, but hopefully an enjoyable one filled with lots of photos and tidbits.
It all started almost a year ago, when I became friends with some of the lovely employees at the Beverly Hilton while I was staying there during the Academy Awards. I found out that although the hotel is closed to the public during the Golden Globes, there are 100 packages which can be purchased to stay at the hotel and partake in some of of the festivities. After countless phone calls and months of waiting, I got the green light just after Thanksgiving. Woo hoo!
My mom and I flew down to LA on Friday, and already we were amazed to see the transformation taking place at the hotel. What was once a circular driveway was now a film set!
Here's where a car typically drops you off to check into the hotel. But not today!
Take a gander at this short video I shot from the balcony of our hotel room. This is a major production, to say the least.
I couldn't believe when a luggage cart of Golden Globe statues just rolled right on by…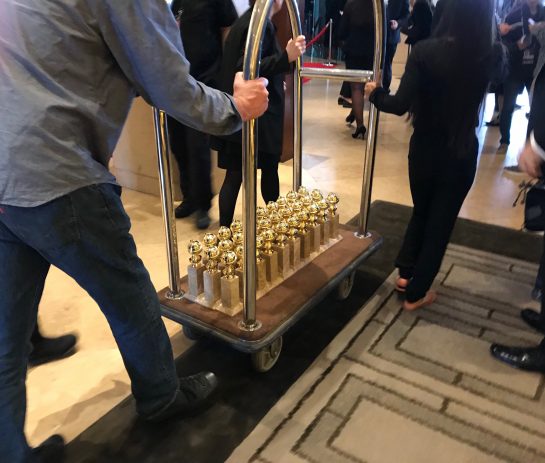 We did take a little shopping break that day, so we headed to the parking garage to catch a ride in the hotel car. (Love that service!) And who did we encounter as we were sitting there? Oh, just Seth Meyers, the host of the show…no big-ee. I wished him good luck on the show, and received a winning smile, twinkling eyes and a heartfelt thank you in return. Yeah…that doesn't happen every day.
My brother and sister-in-law flew down on Saturday to meet us. This was going to be a family affair! Finally it was Sunday, the big event. We had seats on the second row of the bleachers on the Red Carpet. It was an ideal place to sit, as not only could we see and interact with the stars on the carpet, but we were also the closet seats to the press photography area. Can you see what a fabulous view this will be of all the stars?
Here's a little video from my seat showing you the lay of the land.
It was actually very warm when we first got to our seats — a sunny 75 degrees, but the stage lights made it even hotter. Fortunately, we didn't have to be too dressed up for this part — that'll come later.
Here's the family, ready to see the celebs!
As the Red Carpet began filling up, many of the stars would come to the area right where we were seated to sign a huge board celebrating the 75th anniversary of the event. While they were in this area, you could exchange some words and snap some close-up photos. When Allison Janney was in front of me, I said, "Yay for tall girls!" She got a huge smile and this was her response. I have to say, she is truly luminescent in person — glowing from the inside.
Justin Timberlake and Jessica Biel were just darling. They looked SO happy and loved the crowd cheering them on.
One thing I noticed was that you really catch different views of things when you're there, versus seeing it on TV. For instance, when Debra Messing stopped to touch up her make-up before a photo op, I couldn't help but notice how the sun gleamed through the giant emerald ring she was wearing on her right hand. Can you see it in the picture below?
When I heard that everyone was going to be wearing black to the Globes, I was definitely all for what it stands for, but I thought I might be disappointed not seeing the typical array of colored gowns. Although some have referred to it as looking like a funeral, I must disagree. First of all, people were very excited, and there was a palpable energy in the air. Also, I've never seen so many variations of black dresses in my life, and people really made it their own with their interpretations and accessories. I'm not sure if Nicole Kidman has been getting many kudos on her dress, but I have to say that she was so ethereal, floating down the carpet with her darling husband, Keith Urban. The diaphanous fabric right next her face really suited her delicate bone structure.
I couldn't help but be wowed when Merly Streep went by.
When Mandy Moore came through, her Irene Neuwirth earrings simply gleamed in the sunlight.
Any fans of The Crown out there? Well Claire Foy and Matt Smith were awesome. They kept giggling, and it was clear they were enjoying the moment.
I was also thrilled to see the recently engaged Catriona Balfe, one of the stars of Outlander.
Two of the stars from Black-ish, Anthony Anderson and Laurence Fishburne, definitely hammed it up for us.
Sterling K. Brown (and his gorgeous wife Ryan) was smiling SO huge, I bet his cheeks hurt by the end of the night.
It was hysterical watching Tom Hanks and Rita Wilson waiting to get their photos taken. Tom kept pointing at his wife and making faces — totally in line with the personality you think he has after watching him on screen for so many years.
Loved how William Macy was showcasing his "TimesUp" pin during his photo session. A good portion of the attendees were wearing this powerful accessory.
As the carpet was winding down around 4:30-ish, Steven Spielberg and Kate Capshaw made an appearance, both seeming to enjoy the audience.
By the time everyone was inside, the signature board was completely full. I wonder where it's going to reside??
So, after three hours on the carpet, and 100's of photos taken, it was time to head inside. The show started promptly at 5. While they did have a viewing party with screens in the lobby, we opted to skip this and headed up to watch the show in our room, order room service dinner, and get all glammed up. I wanted to be outside the ballroom doors right when they opened and all the stars started flooding out!
We got there in time to have a family photo before the doors opened.
In no time at all, this is what the lobby looked like!
One of the cool things about this awards show is that all the after parties (in this case there were 8!) are held at the hotel. So for the rest of the night, the celebs just party hop, and you can interact with many of them as they cruise around. Granted, some had major security surrounding them, but others you could definitely approach.
Given that my word for 2018 is "fearless," I really put that into action. I had a slightly teary conversation with the fabulous Chrissy Metz about her being such a wonderful role model to us curvy girls. She had been walking with a very handsome guy, and I asked if him if he could take our picture. She said, "You do know that he's a movie star, right?" Well, actually I didn't, and I asked him again. They both giggled and he happily took the photo. I wonder who it was…
Some Kind of Wonderful was one of my favorite movies back in the day, and I couldn't believe one of the stars, Lea Thompson, (you may also know her from Back to the Future) was next to me in the bathroom line! Turns out she introduced me to her husband, who happened to produce that film — we had a conversation about how innovative it was to have a female drummer as one of the leads.
Another of my all-time favorite shows is Gilmore Girls. What a treat to meet Amy Sherman-Palladino, who won for the new show The Marvelous Mrs. Maisel. (I binged and loved the whole season before heading to LA. I highly recommend it!)
Yay to Elisabeth Moss on her win! Loved that she was holding her statue during our photo.
I know that Connie Britton stirred up a lot of controversy with her sweater, but I enjoyed talking with her about it.
I, uh,…just maaaaaybe may have said a swear word when I saw Tracee Ellis Ross. ("Tracee, you are fu**ing awesome!") But she didn't seem to mind; in fact, she stopped and got a big smile on her face!
I don't know about you, but I've become completely obsessed with This is Us. How gorgeous is Susan Kelechi Watson, who plays Sterling K. Brown's wife on the show?!
Last, and certainly not least, I cannot tell you the power that emanated from the incomparable Viola Davis. Wow!! And side note, I thought her layers of diamond necklaces were out of this world — fave jewelry look of the night, for sure.
I stayed up into the wee hours of the morning and had a tough time sleeping after such an exciting day and night. The next morning, as I got ready to leave the hotel, it was a bit sad to see the show set being dismantled…
Now, it's back to reality. But I know this is an experience that I will never forget!!