I find it almost impossible to believe that I'll be turning 50 next month! And if you've been following me for a while, then you know I have a strong tradition of self-gifting. Not only do I find it very empowering to buy myself jewelry, it's also a very sentimental practice where I honor various moments in life. With this momentous occasion on the horizon, I've started putting some real thought into what I might love to own. I want to share some of the items that are currently at the top of my jewelry lust list. In no particular order, here goes:
Noor Fares Rock Crystal Earrings
I originally saw these last year at the Couture show in Las Vegas. They have haunted me ever since. Not only are they rock crystal (which you know I'm obsessed with), but the shape and the combination with gold and diamonds makes them a super luxe look for everyday.
This is another piece I've had on my mind for a very long time. To me, it has sort of a 70's vibe — I can picture wearing it with a caftan poolside in Palm Springs. The little channels of white enamel are oh, so cool. And the diamond settings sing to my celestial heart. Don't you think it'd be gorge in rose gold?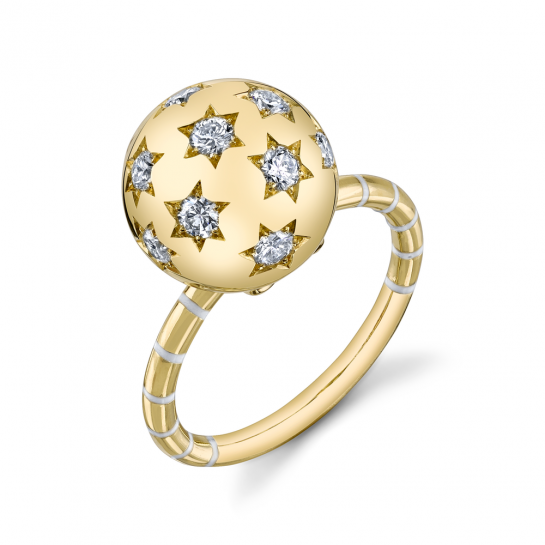 I saw these on Alice's Instagram not too long ago, but they really made an impression! Again, the white enamel detail (I'm sensing a mini theme here) is awesome, along with the combination of metallic tones with the white topaz. I'd wear the heck out of these.
I've been coveting one of Daniela's insect pieces for at least a couple years now. Though I've only seen two of her big rings in person, they make me swoon. In a dream world, I'd probably like one with green stones…
Bibi van der Velden Galaxy Planet Earrings
Bibi is one of my style icons. Not only do I adore her personal style, but her jewelry is seriously out of this world. These galaxy earrings look SO amazing; I may need to take a trip to Amsterdam to try them on!
Dezso by Sara Beltran Rock Crystal Pendant
I have a "thing" for Sara's beachy line, and I own a couple of her pendants already — a shell and a fish. Don't you think this hand carved rock crystal coconut with a polki diamond would complete the trio? And I have the wire wave choker to add it to. The other two pendants I have hang vertically, so I like that this would add a horizontal aspect to the grouping. True, a coconut isn't exactly what one typically thinks of in fine jewelry, but I love its uniqueness. And as you know, I'm usually not one to have "the norm" in either clothes or jewelry!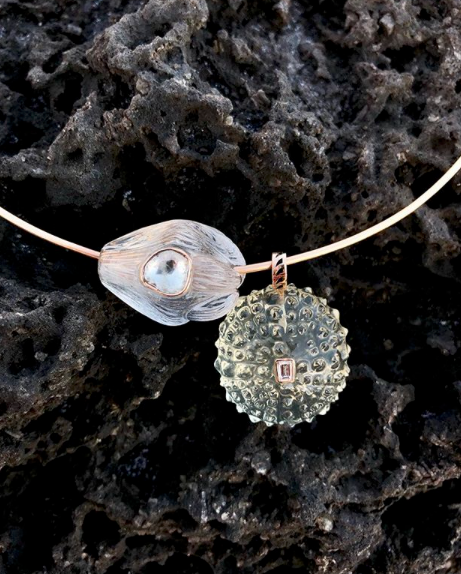 Brent Neale Rainbow Gem Knot Ring
Hopefully you read my last blog article, which was all about Brent. And I must say there's something about her jewelry that really draws you in. Since my wardrobe is mostly black, wouldn't this ring be a great way to add some color to my ensembles?!
As I write this list, I'm definitely picking up on a few common themes: celestial, enamel details, rock crystal, and color. Funny that these elements didn't necessarily pop out when I was picking the pieces, yet now they are so obvious.
I've still got time to ponder, and I'll be seeing LOTS of jewelry when I embark on a 10 day road trip to southern California next month. The best scenario is that I win the lottery between now and then and I buy it all! A girl can dream, right?!
Speaking of dreams, I've got a big one — a huge new project that I'm diving into this year. As a result, I'm going to be taking a hiatus on writing articles for this site. BUT…don't panic. You can always get your jewelry fix on my Instagram page, which is definitely full of sparkle. If you're not yet following me, then click here to keep up on the latest scoop. In fact, perhaps I'll even reveal what I land on for my 50th gift. Hope to see you there! xo