My obsession with Nak Armstrong jewelry all started when I tried on this ring at Red Bird in Berkeley last year. (It's the big one in the center of the stack.) I tried it on mixed with some of my own rings, gazed at it when worn on its own, and I must say that I've driven over the Bay Bridge more than once in the time since to visit my oh, so longed-for friend. I kid you not, that if I were to suddenly come into a lot of money, that this would be my absolute first jewelry purchase.
Much to my delight, I was able to meet Nak, the extraordinary designer of this beauty, at a recent trunk show at Barney's in San Francisco.
Nak's kind, creative, and open personality makes me like his jewelry all the more. He spent a generous amount of time answering all my questions and giving me a tour of his latest and greatest. The first pair of earring that drew me in are these hoops. The clever design has a right and a left, so that they hang just so.
This Austin-based designer launched his signature line in 2011, though he has been designing since the late 90's. (You may remember Anthony Nak, which was a line he co-founded.) Every piece is hand fabricated in the USA. The colors of stones he uses are so intriguing to me — they are very nuanced..deep and moody, with incredible depth. Here's an array in his classic style of bangle.
He also showed me some new bracelets, which are flexible and quite fabulous.
Nak's jewelry combines the feel of Roman mosaics with Art Deco. He finds joy in imperfections, and sources inspiration from clothing, textiles and architecture. The result is a "tapestry of color," as he told me. Take a look at these incredible earring designs.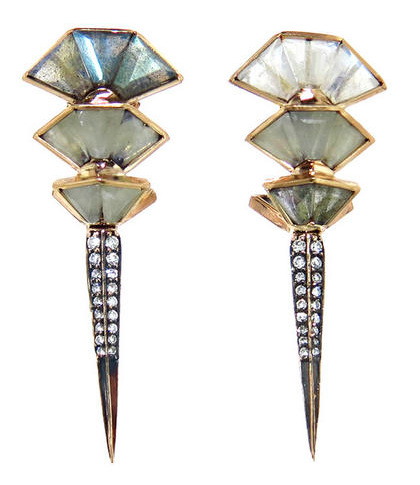 Nak's wider band rings are perfect worn in stacks. Here's my friend Jen, wearing two of hers paired with a couple skinnier rings.
You can see the detail in this image of an aquamarine and emerald design.
There were also some daintier rings at the trunk show, and I tried on these.
When not designing jewelry, you can find Nak and his (delightful) partner having Netflix marathons in their recently renovated home. I so enjoyed seeing some photos of their new space, with its clean lines and well-edited decor. Clearly, his creativity spans many avenues.
If you're interested in seeing more of his work, there are nice selections online at Barney's, Twist and Ylang 23. Thanks to Nak and Walter for spending so much time with me!