I have this beautifully decorated folder called my "Style File" that sits front and center on my desk. Whenever I see something in a magazine that I love, I rip it out and add it to my file. These are not necessarily items that I can afford or even fit, but they just speak to me. Through this process, I'm really able to see my style direction, and it inspires me each and every time I look through it.
Well about a year ago I saw a pair of earrings (though I can't even remember in what publication!) that just took my breath away. They were an elongated teardrop of some sort of horn, with the tiniest of diamonds carefully inlaid in each one. I HAD to try them on! So off I went to Barney's, and voila, there they were, in the Monique Pean case! Yes! They were perfect — they suited my face shape, complemented my coloring, and they were as light as a feather. Had they been in my budget, I would have gone home wearing them. But alas…I am left to just dream about them.
With this experience still fresh in my mind over a year later, imagine how delighted I was to meet this talented designer in person at the Couture show.
Once I started researching Monique, it wasn't just her incredible designs that drew me to her. In fact, she is "committed to luxury bespoke products that promote social and environmental responsibility." Her entire line is comprised of sustainable, conflict-free and fair-trade materials. She is active in the No Dirty Gold campaign, as well as various other charities. She explained to me that mining gold releases mercury into the earth. (that's not good!) And creating just one ring NOT using sustainable materials can create up to 20 tons of waste!! I can't even wrap my head around that one. One of her main thrusts has been to help people get clean drinking water. Currently, she has made that happen for over 5000 people for the next 20 years. Now if that's not awesome, I don't know what is!!
OK, I can go on and on about this highly-awarded designer, who's line launched in 2006, but I'll stop there. Let's get down to the jewels!!
Here is a classic example of how she uses fossilized walrus ivory along with black diamonds to craft a one-of-a-kind statement ring.
And here is a bracelet also made from the fossilized walrus ivory. You can really see how the natural materials have great color variation.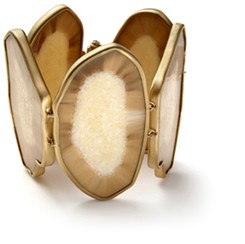 Not all of her pieces are on the larger scale. She also has many delicate designs as well. I think these opal slice studs would be an amazing addition to my jewelry box! (dreaming again….) She told me that all the opals she uses are hand-chiseled, with no dynamite used.
While this necklace is about the same price as a luxury automobile, I'd still choose the necklace! It's created from diamond slices and slices of fossilized wooly mammoth.
It's no surprise that Monique has a huge celebrity following as well, from Michelle Obama to stars of screen and stage. Here's Leighton Meester adorned in some lovely earrings by Pean.
I just love that this jewelry is making such a positive impact on the earth, in addition to making it more gorgeous. I hope to one day own my own piece by Monique, but in the meanwhile, I will keep appreciating the collection and all Monique does for our planet.