Cindy Edelstein was a powerful woman in the world of jewelry. I met her a few times over the years, and I was so impressed with her devotion to both jewelry designers and the industry as a whole. When she tragically passed last year, it left a deep hole in the heart of the jewelry world. The Contemporary Jewelry Design Group (CJDG), in association with Couture, is honoring her legacy with an online jewelry auction, and bidding will be opening tomorrow, May 15, 2017.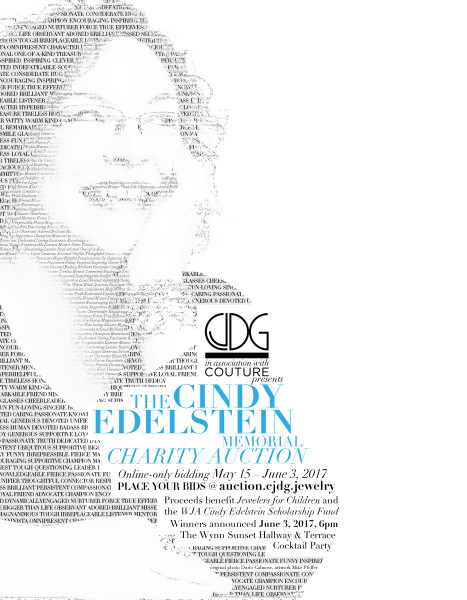 There are over 30 unique pieces on the auction block, each generously donated by CJDG members. Proceeds from the auction will benefit Jewelers for Children and the Women's Jewelry Association Scholarship Fund. Here's a little more about these recipients:
"Jewelers for Children is a non-profit founded in 1999 by the U.S. jewelry industry with the mission of helping children in need. Since its inception, JFC has donated more than $51 million to programs serving children whose lives have been affected by illness, abuse, or neglect.
The Women's Jewelry Association established the "Cindy Edelstein Jewelry Design Scholarship" in 2016 to honor Cindy's unwavering commitment to the WJA and the careers of women. This scholarship, in the amount of $5,000, is awarded annually."
Bidding runs May 15- June 3 at 4pm. The winners will be announced at the Couture cocktail party following the close of the show at 6:00 pm on June 3, 2017. And don't worry — you don't have to be present to win. This auction is open to the public, and the jewelry will be sent to the winning bidders.
Just to tempt you, here are a few of the gorgeous pieces that could be yours….
Skye pendant from Julez Bryant
Knife Edge hoop earrings from Suzy Landa
Pamela Froman yellow and pink gold Scrolls bar necklace with diamonds
Inverted diamond and oxidized silver earrings from TAP by Todd Pownell
Dana Bronfman's Trina ring in yellow gold with diamonds
Antique Greek coin necklace from Jane Bohan
Raw diamond disc earrings from Todd Reed
So have I got your attention now? I thought so. Head on over to the
auction site
and bid for both beauty and a great cause.
(Original photo of Cindy by Dario Calmese/ Artwork by Mike Pfeffer)