So does this photo get your mind going to sparkly places? I should imagine so, and this is the type of work that has made me a fan of
Rebecca Overmann's jewelry
for years now. The uniquely shaped diamonds, the organic feel, and the warmth emanating from Rebecca herself on the handful of times I've met her in person just draw me in. Well lucky me, because I recently had the pleasure of taking a field trip to her studio in San Francisco.
Never having visited an actual jewelry studio before, I wasn't quite sure what to expect. But I finagled a great parking spot in her east Mission neighborhood, and I was ushered up quite a few flights of stairs to an expansive, well-lit space. I was in heaven!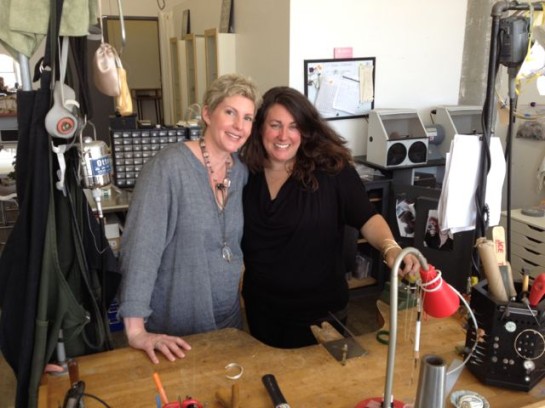 Rebecca has a solid reputation in the alternative bridal realm for both men and women.
Wanting to know more about the whole jewelry making process, she took me through her education and procedures. She was going to school in Savannah and decided to take a jewelry making class as an elective. While I was there, she pulled out an old hat box filled with her school projects, showing me her early attempts in silver. One of which is this highly complicated Celtic necklace, which was her first carved piece ever. "I don't know how I actually did this in such detail!" Well clearly she has an innate talent!!
Though she did have a successful career in graphic design for an ad agency, the day after she was laid off she went out and bought her workbench, the same one shown in the photo above. She's never looked back, and she's been going full-time for 12 years now. (I just LOVE when people find their true calling!)
So back to her self-described "old school" process–she first carves her pieces in wax.
She can manipulate the wax perfectly to accommodate the stones she chooses, which she also carves to the exact shape she envisions. And BOY were there a lot of stones around!
When the pieces are then cast in metal, she uses burs for setting the stones, and grinders and polishers for the final touches.
With her talent, vision, and creativity, the finished product is always something so special. She designs for a total range of clients, but she told me they all want something with a hand-crafted look. During my visit, she was getting ready for the NY Now show, which runs August 16-20. While she traditionally has used diamonds in her designs, she's now branching out a bit into the world of color. This came about when she met a sapphire dealer from Sri Lanka who had some stunning gems. There were some woven pieces being made while I was at the studio as well, and here's a glimpse of some of her colored sapphire rings. Given the rising popularity of colored gemstones, I'm confident that these will be a big hit at the show.
While I certainly appreciate the color, I had a few favorites from her various shades of neutral diamonds. She makes the most interesting and diverse collection of studs I've seen from one designer. (The photo below is a small snapshot.) I think the oval grey diamonds would make an outstanding addition to my jewelry collection, melding beautifully with many of my oxidized silver pieces…just sayin'.
I was also in love with her bangles, which were surprisingly comfortable on my wrist. You know how so many bangles are too heavy, or they slip down and catch uncomfortably on your wrist bones? These SO do not do that!
My mind was whirling after our hour together, and I can't wait to go visit again! Before leaving, she gifted me an autographed copy of Beth Bernstein's Jewelry's Shining Stars, which is a visual feast of a book featuring 38 jewelry designers who are really changing the face of jewelry today. No surprise that Rebecca is one of the featured designers.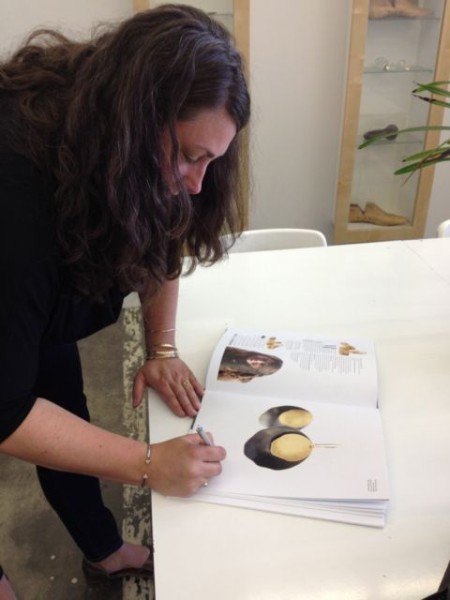 I can't thank Rebecca enough for opening her studio to me and letting me pick her brain about it all. It was an amazing field trip! xo