I recently returned from a girl's weekend in Seattle with my cousin Rachel and my "cousin-to-be" Megan. We had a blast, despite the rainy weather, exploring this beautiful and friendly city. Since they were hanging with me, a professional shopper, I know that they weren't surprised when I pulled out my page of hand-written notes on all the shops I wanted to visit. And bonus, Megan had a rental car! So off to the Fremont neighborhood we went, which is about a 15 minute drive from downtown Seattle.
One of the shops on my "must see" list was Essenza, which is a unique combination of jewelry, bath/skincare products, sleepwear, and some kid's items. I knew I liked the store before I entered, which was painted in a pale aqua-blue (my favorite color).
And my thoughts were confirmed as I entered this charming store, with a central fountain surrounded by beautiful cases of jewelry.
So many of my favorite designers were represented, from Megan Thorne to Rebecca Overmann to Sarah McGuire.
Peering into the cases from Zoe Chicco and Jamie Joseph definitely brought a smile to my face!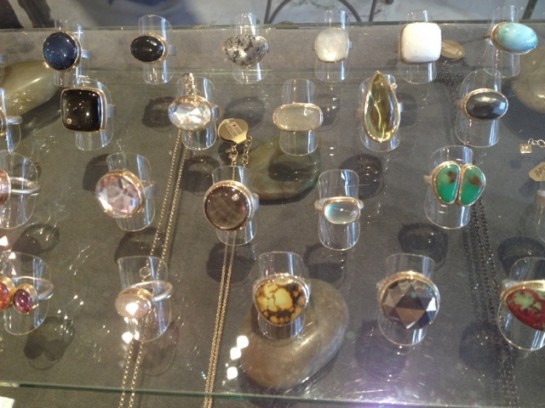 I was excited to find a new men's jewelry line, The Blue Hound. It's so rare that I see a men's line represented at a store like this, and I loved it! It was very industrial, and had a great price point. Here's some bad-ass skull cufflinks and a couple edgy bracelets.
If you're in the Seattle area this coming week, then it's the perfect time to stop by the store. They will be hosting an Anne Sportun (oh, how I love her and her line!) trunk show. Here's the details on the show.
I hope that the next time you're in Seattle, you'll make the effort to visit Essenza. I met Wendy, the owner's sister, and she was just charming. And in a typical small world style, it turns out that she used to live in the San Francisco Bay Area and knew tons of people in common with my cousin. Go figure! I love how the universe keeps connecting us all in that special way.