Yes, I must confess that I have a new jewelry crush, and she hails from across the pond. Meet England's Polly Wales. If you're not familiar with her line yet, then get prepared, because just 4 years into the fine jewelry business, she's already making more than a mark for herself! With a background in sculpture and jewelry study at the Royal College of Art, Polly is winning awards and being recognized in both the public eye and among the jewelry industry.
Polly told me her fine jewelry business, which began with a custom wedding ring order, has exploded since she became a mother. In fact, her bridal business has become a much bigger part of things than she ever expected. Well, I could have told her that, after seeing and trying on some of her rings. The first one to catch my eye was this rustic rose-cut diamond band. Never has an eternity band had such presence, with a deeply organic feel. It's cast-in-place, meaning that the stones go directly into the wax, each one made individually, and then into the metal casting process. This can be very tricky, though, because if the metal doesn't cast correctly, then the whole thing, including the stones, are lost. Yikes!
And though this ring is technically part of a bridal line, that's not about to stop me. Look how effortlessly it stacks with other rings. I certainly don't need to be a bride to sparkle!
This design, with
mixed-cut white sapphires
, has a distinctly more modern, abstract feel. Though again, that same organic essence ties her whole line together. Polly says her jewelry, "Offers an honest, imperfect beauty that is natural and attainable." Agreed!
When I inquired as to her current favorite piece, she showed me this
thunder beetle diamond ring
, which features two large and two smaller rose-cut cloud diamonds. Definitely a unique, whimsical design!
She recently previewed these halo rings at the
NY Now show
, which are a super-slim version of her beetle rings, along with kite and pyramid-shaped diamonds. The warm color palette in greens and golds is simply sumptuous!
But Polly is not just a ring designer! She has equally amazing options in earrings and necklaces. Here's a sampling of her disc necklaces, which come in a wide variety of colors and gems.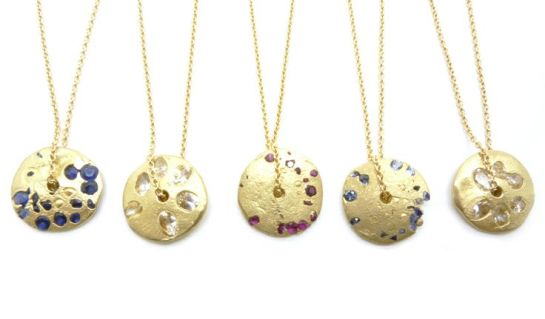 This
rainbow crescent necklace
can also be ordered in a single color, or a color combination of your choosing. That's one of the great things about Polly–she's a master of custom creation (aka, bespoke). Currently, her pieces are cast in London, but they are moving in-house very shortly. With that move, she'll now be able to use 100% recycled gold.
This
necklace
is definitely right up my alley, with its Miner's cut diamonds and elongated quill design. Oh yes!
What do you think of these multi-colored sapphire earrings? To me they look like a party for your ears, confetti included!
I believe these
grey diamond halo earrings
would become a staple in my jewelry box. (A girl can dream, right?!)
Polly's effervescent charm is contagious. You can't help but be happy when in her presence. When I asked her if there was something about her that others didn't know, she was truly stumped. She finally replied, "I'm just an open book, Amy!" And it's true. She is the type of person that you instantly feel as if you've known for years.
In addition to Polly's retail site, she also sells in a variety of stores around the globe. (Click
here
for a full list.) If you're in the San Francisco Bay Area, you will enjoy seeing her
trunk show at Earthworks in Los Altos
this coming Saturday, October 4th, from 10am-5:30pm. And let me warn you…you will be tempted, but in the best possible way!