I cannot believe this is already the final article in my six-part series "Jewelry Box Basics." Talking about what jewelry you should have in your jewelry box based on your personal style, I've covered the lady who lunches, the bohemian, the rock star, the minimalist and the romantic. Now, it's time for the woman who's all about the latest trends. You may notice that some of the pieces I feature in this article could easily fit into one of the other categories. This makes perfect sense, as each season there will be jewelry trends that appeal to different personal styles. For instance, when I wrote the article about this spring's big spike trend, you just know that the rock star is all over that one! Please remember that no one fits into just one box. We are each unique, and it's wonderful to explore the different facets of our own style, from clothing to jewelry. Don't worry about the price tag on the pieces — just use the item as a springboard for your own interpretation at the price point that's comfortable for you.
I'm writing this particular post from a personal perspective. Since there are SO many jewelry trends out there, I decided to chose things in each category that are on my own wish list — things that I would actually love to wear. Some items have a bohemian edge, others a little rock star…enjoy.
Watch
There's nothing truly "basic" in a trendy fashionista's jewelry box, right down to her watch. The past couple years we've seen white ceramic watches become increasingly popular. I like Michele's interpretation, which of course is bedazzled with some diamonds.
But seeing that color, especially in the neon range, is hot-hot-hot, I'd also have to add this day-glo watch by Marc Jacobs. What a great pop of color with a neutral outfit!
Bracelets
I have to say that I'm getting a little obsessed with bold cuffs. I actually think this trend will easily transition into fall, so picking up a nice one might be a good investment. When I was at Barney's the other day, I tried on this stunner by Celine. The mixed metals, the rounded studs, and the weight of it were just divine. No, I didn't get it, but it's currently #1 on my jewelry lust list!!
I'm also loving this metal and horn creation by Maiyet. I can easily envision one on each wrist with an all-white outfit.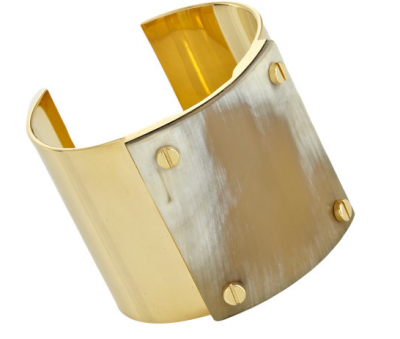 Rings
There is definitely a growing trend in multiple-finger rings. The key to this trend is not to just grab any old rings out of your jewelry box and pile them on, but rather curate a handful that has a similar theme. Many designers are now selling a set of 5 rings, one for each finger! Balenciaga is one such line that has a stunning group. I've yet to see them in person, but they're everywhere in the media! I wish I knew where to check them out — not even their website offers them….they are elusive…
Earrings
A couple trends are beckoning to me this season. The first is all about color. Colored and painted crystals are showing up everywhere from H&M to Neiman Marcus. This pair by Dannijo is cited as their "mohawk moment" — love that!
I'm also really enjoying the "new" shape of chandelier earrings. They have a long, thin silhouette, as opposed to the wider designs of a few years ago. This diamond and chain pair by The Woods is a perfect example of this. It can be easily worn with jeans or a cocktail dress. Boy would they look great in my jewelry box! 😉
Necklaces
I've got to come back to the colored crystal trend for the necklace choice as well. The Courtney Lee Collection has designed some trendy, yet very wearable pieces this season. Take this necklace, for instance. Style it with a denim shirt and white jeans, and suddenly you look completely put together. Just one key piece of jewelry can really make an outfit.
J.Crew always has a great selection of on-trend jewelry as well. Here's one of their necklaces with a similar feel.
Here's what you have to be really careful about when you are a trendsetter. You need to strategically think about the cost-per-wear of each piece before you buy it. Some trends will be just a flash in the pan. If you spend tons of money on something like that, then it may not be a wise investment. But if it's something that truly makes your heart sing, works with the majority of your wardrobe, and you can see it lasting or being mixed with other pieces in the future, then it may be a wiser expenditure. These sorts of pieces really can end up being your jewelry signature, so it's worth it. Do you think you'll be investing in any trendy jewelry this season? Do tell! Inquiring minds want to know…