Black and white outfits were ALL over the runway this spring, and it's no surprise that it's translated into jewelry as well. The point was driven home when I saw this amazing cuff by Robert Procup — the diamonds, the stingray, heck, I'm hooked!
For a more bohemian vibe on the trend, check out this cuff by Kevia.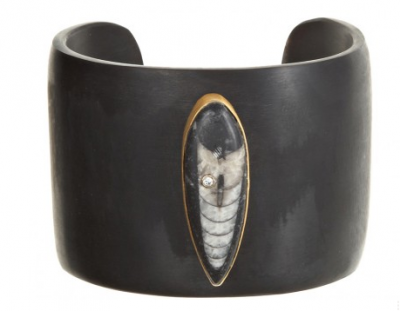 Chan Luu, the goddess of wrap bracelets, also has her interpretation in black and white agate.
Nan Fusco has come up with a very versatile black and white combo with this piece. It can be worn as a necklace or a wrap bracelet. Now that's some good cost-per-wear.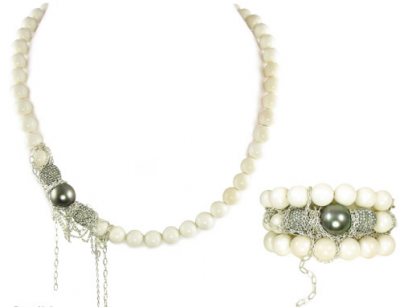 If the vintage look is more your style, then you're bound to be in love with this necklace by Susana Speidel.
And for a more modern look, these hoops from Ippolita's Rock Candy Collection are definitely a new classic!
And let's not neglect our fabulous fingers! If a more substantial, statement ring is up your alley, then you'll covet this evil eye design by Miriam Salat.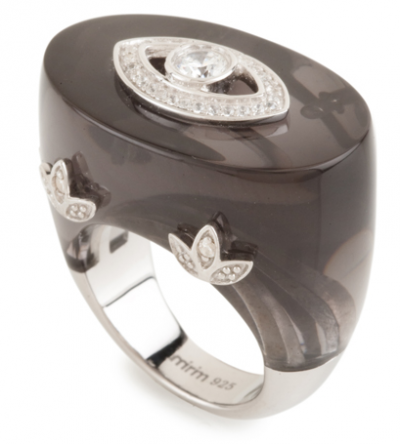 Then again, you may be more apt to wear a delicate ring. In this case, I'm loving this ring by Nolan.
I think that exploring the black and white trend is so much more user-friendly in jewelry, as opposed to in your outfit. Let me explain…if you have high-contrast personal coloring (like Cher — dark hair and pale skin), then repeating this high-contrast level in your clothing is a very inherent look and is fabulous. On the other hand, if you are more low-contrast (think Gwyneth Paltrow — pale hair, skin and eyes), then wearing black and white for your outfit is a bit overwhelming. People will notice your outfit before they notice you. SO, interpreting the trend in jewelry and accessories is the perfect solution.
I'd love to hear how you're wearing (or not) the black and white trend this spring. Send me photos!!