No, I'm not making reference to Christian Grey, but rather to one of my latest obsessions — the cuff bracelet. I have written about beautiful cuffs by many designers the past couple years, but for some reason my interest in this particular style has really been piqued lately. I almost feel stronger in some way when I wear one. Perhaps I'm channeling my own inner Wonder Woman?!
Well wearing a cuff on each wrist is becoming more and more popular, and it really can be a chic look. I'm gravitating towards the sleek, modern look of these.
While shopping with a client in San Francisco last week, I discovered that Reed Krakoff, whom I normally associate with gorgeous handbags, also has some amazing pieces of jewelry! My client and I both fell love with this gunmetal t bar oval cuff. It sits very comfortably on the wrist, has an easy-to-use and secure closure, and just screams style!
Upon looking through Reed Krakoff's website, I'm also totally taken by this one, which is a combination of metal and resin.
Elsa Peretti, who designs for Tiffany and Co. has created an amazing "bone" cuff. The design is different for each wrist, so that it molds naturally to the shape of your wrist. I'm SO going to try these on next time I'm at the store!
Lanvin has a very geometric version of the cuff. The design is slightly reminiscent of 60's architecture to me. Do you see it too?
There are many options out there in rose gold as well. Personally, this layered-look cuff by Alexis Bittar just makes me smile.
Speaking of the layered look, I also like the idea of layering a bold, wide cuff with a narrower one. I bet this smaller one by Saint Laurent would work for that.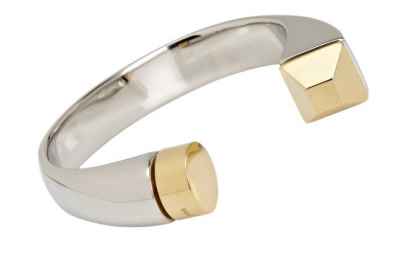 One really important thing I've learned about cuffs is that you HAVE to try them on. Some feel way too heavy. Some are soooo tiny that I can't even get my wrist into it! And yet others are too big, and they fall down too far, making it difficult to bend your wrist. I mean heck, I'm willing to suffer a little for fashion, but not that much! So just like Goldilocks, you've got to test them out until you find one that's just right for you!