It never ceases to amaze me that after 5+ years of jewelry blogging and into my 18th year of personal styling (where I pretty much am in the stores constantly), I can STILL come across such unique jewelry designs…those that stop me in my tracks and speak to me. This is exactly what happened as I walked down the first row of the NY Now Handmade show in New York City. I have a new jewelry crush on Ruth Tomlinson. Once I started chatting with Ruth, I was even more hooked. She is soft-spoken, yet passionate about her work. She is incredibly talented with detail, and when you see the intricacies of her pieces, you are truly drawn into a miniature world of gold and gems.
Ruth led me on a tour of her four collections. The first up was
Lustre
, which features
lots
of diamonds. You can see both raw diamonds, just as they come out of the ground, right next to faceted stones in this collection. She told me how she really appreciates the inner glow of the stones and how they add a bit of mystery to the piece. I completely agree!
This particular ring
includes grey, champagne and white diamonds in 14K gold. She selects what carat of gold to use based on what will best complement the colors of the stones.
Ruth graduated with an MA from the Royal College of Art, and still resides in London, where her line is all made in studio. (Note to self: visit studio on next trip to London!) Though she does sketch designs, she is also very led by the process itself, seeing where the materials take her. She is constantly drawn into a miniature world. Boy, do I like this world!
Midas is the next collection I explored. Inspired by her travels in India, it's full of color and reminiscent of treasures from long ago.
The stacking bands in this group are quite swoon-worthy as well. Perhaps I need one?!
Next up was the
Hoard
collection, based on found treasures such as Victorian and Georgian diamonds. I could see many of these rings as alternative bridal options, couldn't you?
How about stacking a bunch together? Fine by me! These four rings include all old hand-cut diamonds.
Ruth was wearing a couple bracelets from the Hoard collection as well — SO lovely!
Last, but certainly not least, is the
Encrustations
collection, inspired by the sea. Aqueous colors, pearls and shades of aqua, coral, tourmaline and more all in textured gold. Delicious!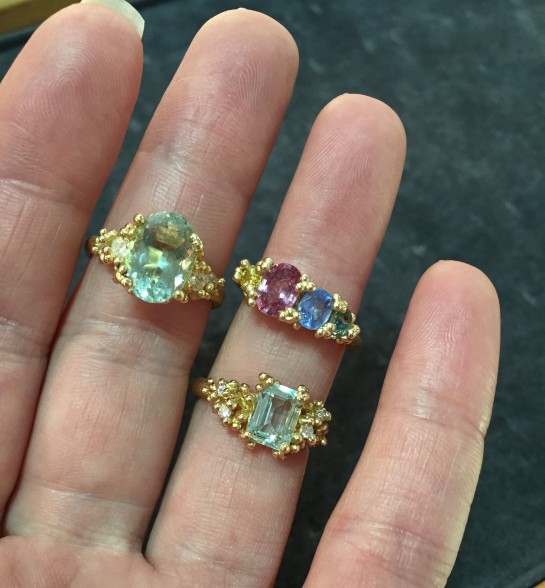 Looking through this collection on her website, I'm quite enamored with this
tourmaline and diamond ring
. The subtlety and combination of hues is fabulous.
If you are as entranced by this line as I am, then take a couple minutes to watch this video which takes a closer look at her inspiration and process.
Inspirations
from
Ruth Tomlinson
on
Vimeo
.
Such an absolute pleasure to meet you, Ruth! I appreciate all your time and creativity.