Gypset…it's a term some of you may not have heard about before. This is a term used to describe the gypsy, jet-setter lifestyle. (There's a actually a beautiful book that delves into this theme.) This embodies a life full of adventure, color, luxe travel and joy. Miriam Salat's line is designed with this woman in mind. When the gypset woman is out embracing life, she clearly needs to be adorned in beautiful jewelry.
Officially founded in 2010, this line is primarily composed of resin, sterling silver, and 18 K gold vermeil. Though her pieces are extremely on trend with the whole color story, that's not what intrigues me. More it's the feeling that I need to be shopping at the bazaar in Istanbul when I wear her pieces.
Here's a beautiful set of her bangles. Worn together or intermixed with bracelets you already own, I'm just loving these!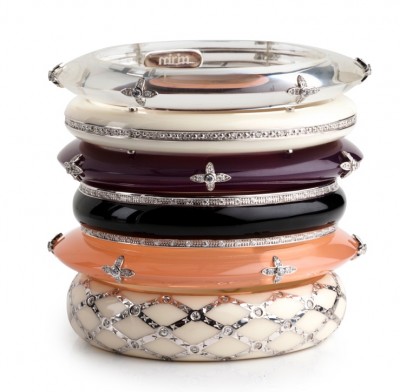 This gorgeous pair of earrings would pair perfectly with a breezy white linen sundress.
And this ring gives you the look of stacked rings all in one. I actually own this ring in camel, and it's really become a go-to ring for me.
With Mother's Day approaching, Miriam Salat (in cooperation with Fever Tree, DRY Soda and Vosges Haute-Chocolat) is donating 15% of sales to Water For People, which is an international non-profit organization that aims to bring access to safe water and sanitation to those in need. This event runs May 8-13th, so be sure to take advantage of this! It applies both online and in her store, located in Columbus Circle in New York City.
You gotta love jewelry that gives back….