Even though it's not my birthstone I'm quite partial to the aquamarine, with its oceanic hues of light blue to blue-green. Named after the Latin word "aqua marinus," meaning water of the sea, this stone is associated with all things ocean. It's said to protect travelers on the sea, and those traveling near water. Aquamarines come from Brazil and Columbia and are part of the beryl family. Among the qualities associated with this birthstone are:
-self-love
-inspires truth and letting go
-aids in articulation and clear speaking
-helps one release emotional baggage
-stone of courage
-brings peace and serenity
I like it — especially the "letting go" part, as my word for 2016 is release. Given how much I love the shades of aquamarine, I was eager to embark upon my virtual shopping spree and see what I could find. In no particular order…
Amy Gregg rectangular aquamarine mirror ring
Rosanne Pugliese oval aquamarine pendant
Gabriella Kiss large rectangular aquamarine earrings
Margioni aquamarine and diamond ring
Meira T milky aquamarine and diamond necklace
Monique Pean long geometric aquamarine earrings
L Frank aquamarine and diamond baguette ring
Jacquie Aiche aquamarine small bar stud earrings
Jennifer Dawes mineral asymmetrical aquamarine necklace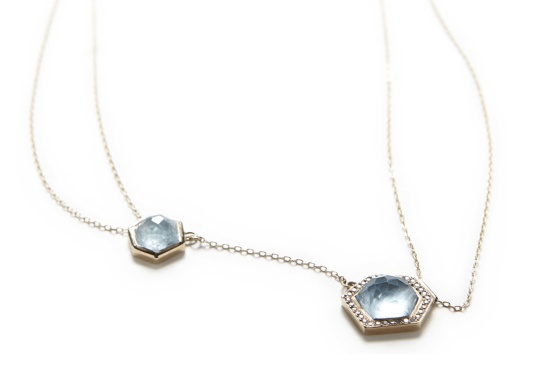 Michelle Fantaci open king ring with blue diamonds and aquamarine
Ten Thousand Things large aquamarine cage pendant
Selim Mouzannar caged aquamarine and tanzanite ring
If I had a bottomless wallet, I think I'd just have to buy them all. Which piece is your favorite? And if you've got a birthday this month, may all your birthday wishes come true!