Well I've been back from the Couture show in Vegas for a week now, and I think I've finally recovered. But I'm still just in awe of all the spectacular designers I met and the lines I saw (and tried on!). Each year I attend, it becomes more and more special, as I get to visit the designers I've gotten to know over the years, and I eagerly look for jewelry that I've never seen before. And let me tell you — this year certainly did not disappoint. I cannot wait to share all my discoveries with you over the year to come.
Of course, there's certainly some "play" mixed in with business, and the opening night poolside party at the Wynn was totally glam and headlined by Janelle Monae. When I heard Italian being spoken at a nearby cocktail table, I sauntered over (along with my colleague, Jen) and introduced myself. I love when I get a chance to practice a little Italian! I spent some time chatting with Christine Beccaro and Giovanni Chini from Annamaria Cammilli, a 30+ year-old jewelry line from Florence. I promised to come check out the line first thing in the morning.
So bright and early (10:30?!) I was at their booth, and I was immediately taken with this golden line. It started with flowers all those years ago, and it remains one of their signatures. Take a gander at this phenomenal ring! It's one-of-a-kind, and it has the date of its birth, 2014, on the inside.
This line is made 100% in Italy and uses an amazing spectrum of
SIX shades of 18K gold
in their designs: white ice, yellow bamboo, orange apricot, pink champagne, natural beige and black. The unusual tones of gold are one of the characteristics which make the jewelry easy to identify.
The ring I was immediately drawn to is called the Sultana Ring, from the Vision collection, and features three shades of gold highlighted with diamonds. The silky finish on the gold is so special.
Annamaria takes her inspiration from all things in nature. She has
four main lines
, each dedicated to a different natural feature: Flowers, Essential (dedicated to the Earth), Vision (dedicated to water) and Colour Stones (dedicated to the sky). One of the standouts from the Essential collection was the Dune Ballet rings. They are so named for the ribbons on ballet shoes, artfully draped and interspersed with diamonds.
Giovanni (who has known Annamaria since he was 14 years old!) told me that their pieces with cabochon stones are extremely popular with Americans visiting Florence, and I'm not surprised.
One of the standouts from the Vision collection is the Polaris pendant. "Polaris is a vortex that projects volumes and lights telling the story of improbable water games. A precious swirl featuring sections of cobbles set against the stylish Cammilli gold."
Not only is their design incredibly unique, but they also have used the same, signature model in all their ad campaigns for the past 9 years. I think it's fabulous that they're not out looking for some new, hot young thing each season. Instead, they celebrate the beauty of a woman as she goes through life, beautiful at every age. Here she is modeling pieces from their Aqua collection.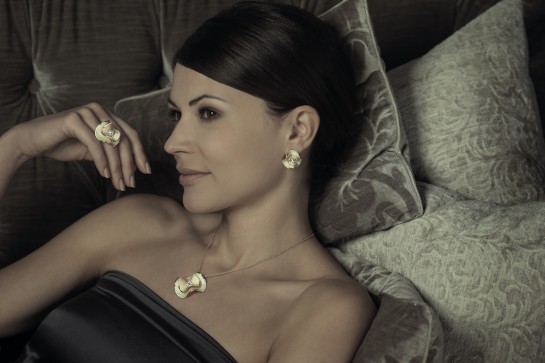 They opened a
flagship store
last spring, and it's definitely on my bucket list to visit it one day.
Even the way they package their jewelry is done with style and luxury. Here's a picture of their signature box, complete with a marble lid. I mean, really….how divine!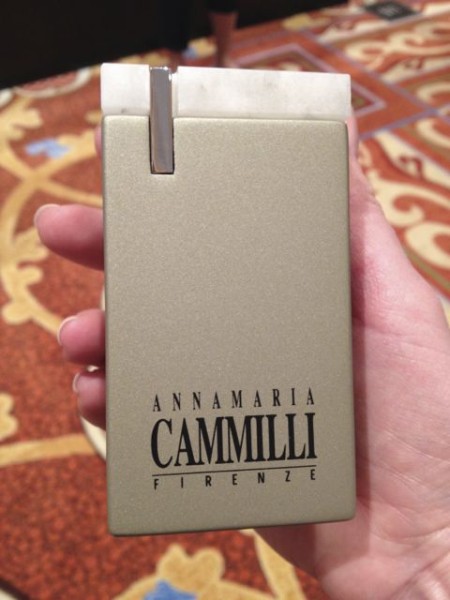 If you'd like to see more, then take 3 luxurious minutes to watch this video, shot in Florence with their model. It's like a music video for jewelry! (And if you're reading this post on an RSS feed and it looks like a black box, then click
here
to watch it on Youtube.)
I was ecstatic when they won one of the prestigious Couture Design Awards for best debut at Couture! Bravo!
Thanks so much to Christine and Giovanni for their time and expertise showing me this beautiful jewelry. I hope to see it represented here in California soon! Grazie mille! xo