What do you think of enamel jewelry? Personally, until a couple years ago, I hadn't given it much thought. But with its resurgence in popularity, I'm becoming a big fan!! Certainly enamel is nothing new, as it dates back to the 13th Century BC! (If you want to read more about the history, Lang Antiques has an amazing article about enamel jewelry.) Basically enamel is when a certain type of glass, called an allochromatic, is fused to the metal below. You may be familiar with Closionee and Champleve, which are two popular types of enamel.
Today, some jewelers are really taking this tricky technique to new heights, mixing enamel with jewels and themes that really make what's old new again. Foundrae is one company that really has melded enamel, gold and meaningful talismans together. Here's their Dark Blossom cuff.
Erica Molinari combines my love of momento mori and enamel in a new type of heirloom ring.
Just about a month ago I visited August in Los Angeles, and tried on this incredible emerald ring from Alice Cicolini. Not only is the peacock pattern on the side of the ring fab, but the red rim of enamel around the emerald really makes it pop!
Brooke Gregson adds a whole new dimension to enamel work with hand engraving. She said, "It is really tough to create an enamel that also can enhance the engraving and I feel this piece was successful in doing so!" Agreed, Brooke — it's awesome!
When I first met Marc Alary back in 2015, I wrote all about his jewelry featuring animals. Now, I'm a bit obsessed with his rings with accents of enamel and diamonds. I can't decide which design is my favorite!
Through For Future Reference, Sarah Hendler's earrings are now on my radar. Love the touch of violet enamel on these one-of-a-kind peridot earrings.
Buddha Mama has really been expanding their enamel collection. Personally, I dig this evil eye ring. How about you?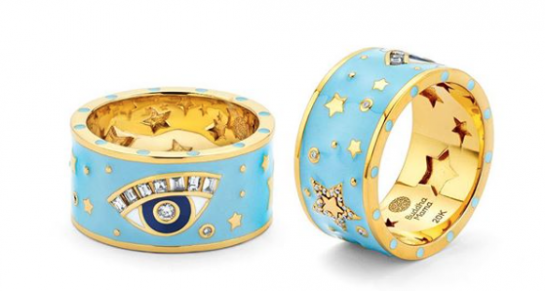 Enamel can even play into an engagement ring, as seen in this spectacular diamond ring from Selim Mouzannar.
But let's not forget that enamel was quite popular during the Georgian era as well. This past summer I picked up this white enamel mourning ring from Lucy Verity. She taught me that the white enamel signifies that the person died young and/or unmarried. The inscription inside is still very clear, so I must research who this man was who perished too soon.
As you can see, there's an extremely wide array of enamel jewelry out there. Have you been noticing it where you live? Or perhaps you already have some in your jewelry box? I'd love to hear from you in the comment section below.