I first stumbled across Erica Molinari's jewelry line on a visit to Head Over Heels in Menlo Park, CA. While not always drawn to tiny, petite jewels, something about the little pearl pendants with inlaid diamonds really caught my eye. Combined with one of my horn pendants, and her small four-diamond enhancer, it really came to life. In addition, I purchased the oxidized silver chain, which I had been searching for in vain for quite some time. Score!
Erica draws her inspiration from the days of yesteryear…ancient Greek coins, the Italian Renaissance, and old Latin words. While at the Couture show, I was happy to run into Erica's fabulous rep, Felicia, who showed me a new collection of teardrops pendants. They're available in a brushed finish in sterling, oxidized silver and 18K gold. The icons range from four-point stars to dragonflies to snakes and evil eyes, just to mention a few. So much to choose from!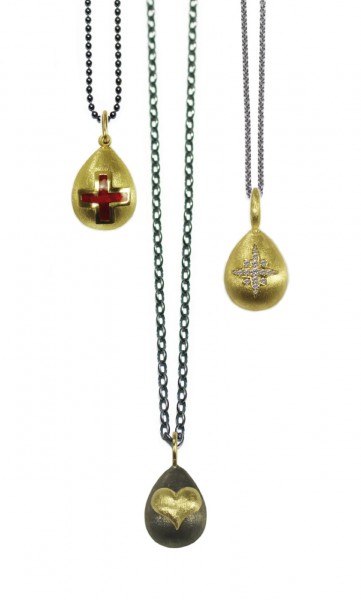 One of the things I love about this line is that you can really mix and match the pendants, creating your own look. I think it's a great way to play with a mixture of metals on one necklace, as well. And for travel, it's perfect because you can switch things up and wear different combinations, so you don't look the same in every picture.
I have yet to meet Erica in person, nor have I seen her whole line. Though I just encountered this photo of her rings and I have a new mission. I've got to see these in person! Guess it's just one more item to add to my jewelry bucket list. 😉