Today I want to share with you a fabulous website, Treat Yourself. This site it definitely more than just a gift guide; it's a curated collection of jewels, hand-selected by Third Coast Gems (Benjamin Guttery) and DiamonDoodles (Hannah Becker) — truly a virtual store. I've gotten to know both of them the past few years, and I can certainly can vouch for their eye and discerning taste.
Before I dive into the gems themselves, I first need to tell you how much I adore the name: Treat Yourself! If you've been following me over the years, you'll know that I'm a HUGE proponent of self-gifting, especially when it comes to the holidays, my birthday, heck, even a random Tuesday. (I explained the origins of this 5 years ago in my article entitled "
The Boyfriend Gift
.") So don't look at this site as only a gift guide for others, but for
yourself
as well.
Ok, so back to Treat Yourself. There are currently 23 talented jewelry designers represented, 15 of which I have met personally and seen their work up close and personal. (Note to self: meet the other 8 designers in 2017!) There is a wide range of price points available, including various options starting in the $300-ish range, on up.
I want to highlight some of the pieces from the site, but there's absolutely no way that I can pick my favorites. To solve this dilemma, I thought it would be fun to do it within my Jewelry Box Basics paradigm. This is where I've defined six different personal styles: The Lady who Lunches, The Bohemian, The Rock Star, The Minimalist, The Romantic and Trendy Gal. With these categories in mind, I'll show you one possible piece that would likely suit each one very well. Granted, no one falls 100% into any one category, but you may find yourself gravitating to one of these styles as you read on.
The Lady who Lunches
This is certainly not to say this woman only goes to lovely lunches — in fact you'll often find her on the board of local charities and in charge of events in the community. She likes luxe looks while she makes a difference. This Daria de Konig necklace gives that exact punch she would love.
The Bohemian
With the warm breezes of Bali in her heart, the bohemian yearns for jewelry with color and movement. These opal and aquamarine earrings from Margery Hirschey fit the bill.
The Rock Star
No, she doesn't actually have to be in a band, but her heart has that rocker vibe and her closet likely houses both combat boots and a lot of black. Skulls are a perfect motif for her jewlery, as is this Crystal Coffin Momento Mori ring by The Moonstoned.
The Minimalist
Low-key jewelry is key for the minimalist. She often has a small "jewlery uniform" that she dons daily, and this diamond and sapphire bracelet by Erika Winters would be the perfect add to her collection.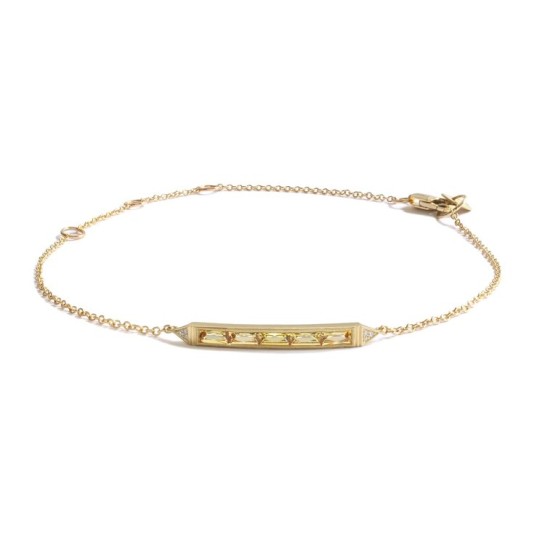 The Romantic
While the romantic is often a lover of antique jewlery, that's not to say she doesn't love new sentimental designs with stars, hearts, etc. and an extremely feminine flair. Sara Weinstock's diamond earrings (which come in three colors of gold) would certainly make her heart sing.
The Trendy Gal
This woman subscribes to all the fashion mags and visits Net-a-Porter daily to see the latest and greatest in the world of fashion. Knowing that bold color and oxidized silver are hot, hot, hot, she'll surely want these Delphine Leymarie rings tied up with a sparkling bow.
Now that I've piqued your interest, have fun exploring the offerings on Treat Yourself! And don't forget to self-gift this holiday season!