Sometimes a girl has just got to splurge…perhaps a big pasta dinner, maybe a visit to a spa, or in my case, usually in the form of jewelry. I've had Spinelli Kilcollin on my radar for a while now, completely intrigued by his linked rings. Now trust me, I was certainly not planning on acquiring one of these beauties, but sometimes the jewelry stars just align, and who am I to fight it?! So here's how it went down:
-I received an e-mail from Red Bird (fab Berkeley, CA boutique) that they were having a special 40% off promotion on certain items.
-I returned home from vacation and found myself with an unexpected day off during their promotion dates, as a client had to re-schedule. (Hmm…clean the apartment? No fun at all!)
-I figured it was undoubtedly a great idea to just "pop" across the bay to see what I could find, as I do have some fall/winter clothing needs.
-….and there it was.
With its artistic combination of silver, rose gold, a touch of yellow gold, and cognac diamonds, I just couldn't resist. Can you blame me? And I'm having such a fun time exploring all the permutations I can create. Here's how it looks laid out.
While I was trying it on, I stacked it with my
Polly Wales
band. Another shopper liked it so much, that she tried one on as well. (And yes, she walked out with one too!)
I can wear it spread out across four fingers.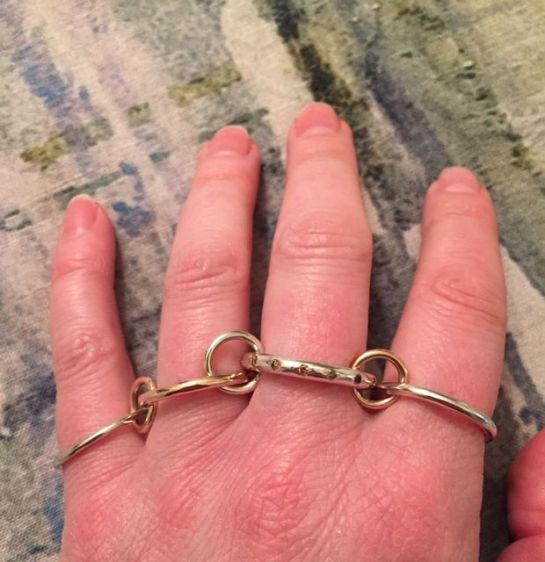 Or I can double it up on two fingers.
And there's no end to the possibilities when stacking it with other rings.
It turns out that the designer, Yves Spinelli, used to ride his trike around the hair salon his dad worked at in Honolulu..and one of his dad's clients was Karen, the owner of Red Bird. I'm sure she never expected she'd be selling the jewelry designed by this toddler at her own store in California. I just love those small world stories! I also hope that I can one day meet him in person and see more of his work.
Barney's has a nice selection of his rings on their website. But be warned that they are much more diamond-encrusted (and therefore substantially more of an investment) than the simpler style I got. There are a wide range of styles available on the Spinelli Kilcollin site as well.
If this ring is something that floats your boat, then I encourage you to try one on for yourself! I think you'll be very pleased.