It was my last day in New York City before returning to San Francisco, and I wasn't about to let the pouring rain deter me from hitting all the "must see" stores on my list. First up for the day was Urban Zen, an amazing concept store by designer Donna Karan. (Thanks to my friend, Michelle, for the hot tip!) When I spied this necklace through the front window, I knew I had found the place! This show-stopper is by Anna Srdic of South Africa.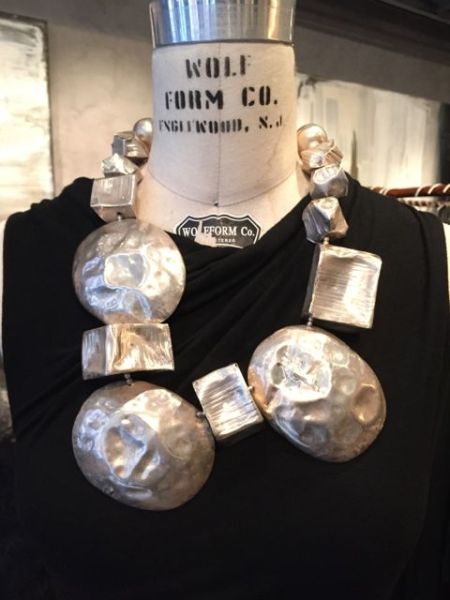 Tucked into a chic space in the West Village, this store is a gift for the senses. I wanted to see, touch, and try on everything! I was expecting simply a clothing line, and I had no idea that there would be home goods, Balinese furniture, and amazing jewelry nearly everywhere I turned. I think I had to do at least three tours of the store before I started taking it all in. The neutral palate was exactly up my alley, and the whole vibe was exotic (yet accessible and wearable), and wildly feminine. Dare I say subtly sexy?
There were different jewelry lines, some by individual artists, and others crafted by the team at Urban Zen, using assembled pieces from Haiti. And then other pieces are made in Haiti, with 100% of the proceeds going back to them. Haiti holds a very special place in Donna's heart. She founded The Haiti Artisan project, which "promotes economic development through job creation and vocational education, helps raise awareness and highlights the creativity of Haiti's artisans." (Click
here
to read more about the story.) Here are some of the statement necklaces from The Haiti Artisan project.
And these cow horn bracelets are so versatile! I learned that the community there utilizes the entire animal, with nothing going to waste. Amazing.
This necklace is also made of horn, though in the form of large beads.
There was a variety of cut leather pieces, all part of the
Urban Zen
collection.
Here's a close-up of the cut-leather necklace.
I think my stand-out favorite from the Urban Zen collection was this leather masterpiece.
There were also many Anna Srdic necklaces on display throughout the shop. Their architectural genius is the perfect complement for the Urban Zen clothing line. And I must say, that they are surprisingly light, given their large size.
Taking a look through her
collections
on her website, you can really get a feel for the whole Urban Zen look, and I have to say…I'm a BIG fan!
I'm going to use everything I saw for inspiration in future curation of my own wardrobe. The way the clothing is comfortable, yet flatters the feminine figure, making bold accessory choices, and being aware of how my dollars are spent — because there's nothing like fashion that gives back. Thanks, Donna!