I was invited to an event at a private (gorgeous) home over the weekend, which featured many different vendors, from handbags to make-up to jewelry and more. But I must admit (and I know you'll be shocked!), that the real reason I went was to see the jewelry line Muse Refined. While I had seen their website, I wanted to see the goods in person and try them on. I was definitely not disappointed, and I think this delicate collection is quite lovely. The line's founder, Sophie Kwon, told me that her family has been in the jewelry business for 30 years, and she finally launched her own business this past year. Here are my 5 favorite items I tried on.
Pave Claw Cuff Ring
Open ID Bracelet
Crescent Bar Necklace
Diamond Wrap Ring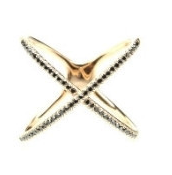 I think so many of these items are ideal for layering, though they are so pretty on their own as well. I particularly liked the double chevron ring and the claw cuff ring worn on my pinky. While this line is not currently available in stores, you can see it at private trunk shows or by private appointment. Click
here
if you'd like to contact them or sign up for their mailing list.