I've been a fan of Elie Top long before he launched his own collection in 2015. Before that, he designed the jewelry for Lanvin, under Alber Elbaz. Countless pieces from the runway shows made it onto my "I want it!" list. Elie designed for Lanvin for 15 years, after working with Loulou de la Falaise at Yves Saint Laurent. Talk about a pedigree! Though he originally thought he'd be a wardrobe designer, I couldn't be more thrilled that his path led him down the road to jewelry.
Elie is a truly unique designer, seemingly with the mind of a mechanical engineer and architect with the soul of an artist. Only one with this combination of talents could produce a ring like this…
A still image doesn't do the complexity of its design justice, so while at the Couture show in Vegas, I took this short video showing how the ring moves and changes, revealing as little or as much as the wearer chooses to show.
This is one of the clever aspects of Elie's jewelry; things flip, turn, and morph. With one piece of jewelry, you can either be showing bling or toning it down with just metal. Elie has three different collections. The first one he launched is the
Mecaniques Celestes
, which draws inspiration from astronomical tools from centuries ago. One can see his love of Baroque as well as architectural elements in his work. I was completely mesmerized when I tried on this
Aqualung Cuff
, with distressed silver, gold, and diamonds.
I would wear the heck out of this necklace, also part of the same collection. I took a couple photos, so you can see it both open, revealing the inner workings of the pendant, and closed, which shows the distressed silver and gold. If you wore it this way, it would be like wearing a special secret around your neck. While speaking with Elie about his inspirations, he told me, with a grin and a glint in his eye, that the little sugar pots at the cafes in Paris helped with his design. I love that little nugget! It will give me all new appreciation when I'm in a cafe in Paris this summer.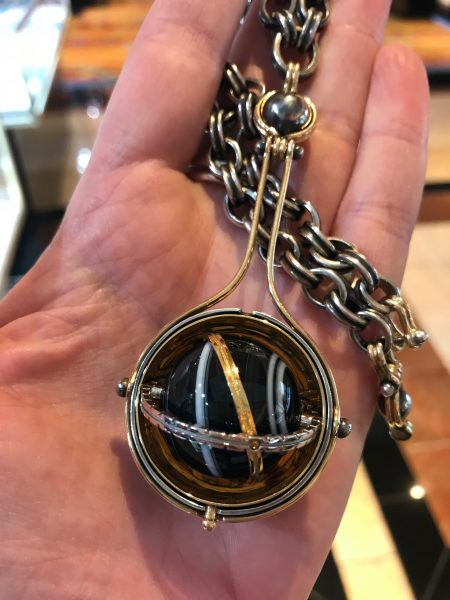 The
Cosmogonie Secrete
is another of the three collections, otherwise known as Cosmo Element. One of my favorite things in this group are the rings, which flip to show two different stories. Here's the two sides of two of these rings. On one side, you get your element (earth, water, etc.), and on the other side, your astrological symbol. This is most definitely not your average take on a signet ring!
I couldn't help but snap a photo of the necklace that Elie's sales and operations manager, Jehanne, was wearing. Talk about a statement necklace!
Another showstopper necklace is this one, from the
Mecanique Celeste
collection, crafted from ebony with amethyst, lapis, turquoise and diamonds. Once again, you can flip the components to show the jewels or keep it a little more discreet.
Elie's
Etoile Mysterious
is his third collection, which has such a powerful vibe! It's the ideal intersection of a futuristic look with nods to the past.
I could have stayed in Elie's booth for hours, investigating the intricacies of each piece. Thanks to Elie and Jehanne for all your time and education!
Save
Save