I just adore visiting For Future Reference's booth at the Couture show, as they represent some of the most amazing jewelry designers — creative, colorful, and lines that are often outside the proverbial box; no run of the mill designs seen here! Case in point was seeing Brent Neale's line for the first time. The designer, Brent Winston, is a true ray of sunshine and she perfectly translates this joy and effervescence to her jewelry line.
Case in point — have you ever though about wearing a gemmy magic mushroom around your neck? Well I hadn't either until I saw them in person and then fell in love with this bright green one she posted on Instagram recently.
Please enjoy this Q&A with Brent:
I know you worked in the jewelry world for many years before starting your own line in 2017. What prompted you to take the leap?
I left Kara Ross in 2015 because of a high risk pregnancy with twins, including a long stint on bed rest. It was a tough year for me. The girls were very early and they spent two months in the NiCU where I basically lived as well. A year after they were born my husband and friends urged me to start drawing and working again. I'm so glad they did, because I really needed to feel like myself again. I started sketching everything and it came pouring out of me. Jewelry is something I truly love and it's part of my personal identity, so it was natural. That first collection was called "After the Rain": a reminder that something good and beautiful always follows something bad.
Your line is so whimsical and colorful — it always makes me smile when I see your work. What's your inspiration for your unique aesthetic?
Life is hard, and everyone has their stuff, you know? But jewelry should be fun and happy and that's a goal of mine for the line. It should make you feel good! (btw — I totally agree, Brent!)
Tell me a little more about your cool door necklaces.
The doors came about through my travels — each door represents a different place. The Malachite door is Rome, the Lapis is Paris, Turquoise with the honeysuckle and hummingbird took inspiration from the Bahamas, and so forth. But more than just visually, the collection was called "Passageways" and it was about creating the path and choosing the doors you want in life.
What sort of woman do you envision wearing your jewelry?
I think the women that buy my jewelry want something a bit different and a bit out of the box. I particularly love that the women range in age and they are wearing it for all occasions, as everyday pieces and for black tie!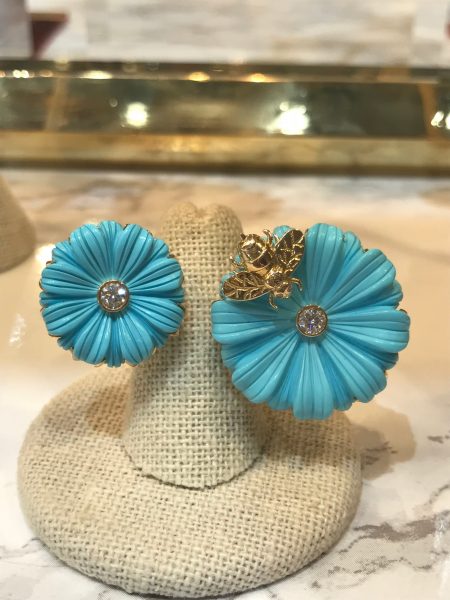 What do you find is the most rewarding thing about being a jewelry designer?
When I get an note or an email or a DM from a client saying how much they love a piece. If someone derives some joy out of something I've made, then I'm definitely doing something right.
Anything you can share about what you have in store for your line in 2019?
Loads of color, texture and fun ✨✨✨
I am SO not surprised to hear this, Brent. I'd expect nothing less, and I cannot wait to see what you have in store for us. If you'd like to see more of Brent's work, click here for a list of retailers and definitely follow her on Instagram for an insider's look at what she's up to. It's sure to bring a smile to your day.