I have been a fan of Isharya jewelry for years, in fact ever since I bought my first piece on Gilt group way back when. Emma Roberts is among the many celebrity fans, and she rocked their blue lapis goddess power cuff at the Tribeca Flim Festival.
Well meeting Radhika Tandon, one of the co-founders of the line, at a recent event in San Francisco was fantastic! Not only is she smart, stylish and beautiful, inside and out, but she also has an extremely welcoming personality. I was invited to visit their California headquarters and showroom in San Jose. (Their other main office is in Mumbai, India.)
I didn't know where to look first, with shelves and beautiful displays of jewelry everywhere.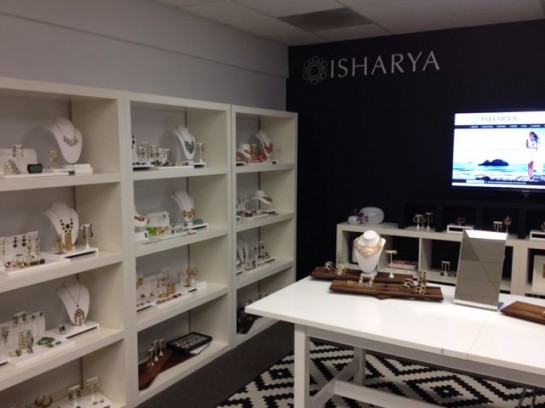 Isharya is the creation of Radhika and her sister-in-law, Gauri Tandon, who runs the Mumbai office. While neither started out in the jewelry business, they both have a love of sparkle and bling. Radhika told me that it all started when she would have jewelry designed and made for herself in India. Back in 2004, a friend borrowed one of her pieces, who then showed it to someone else, and next thing she knew, she was being featured everywhere from Daily Candy to Lucky and In Style magazines! Clearly she was on to something. Here's a close-up of the
blue lapis goddess fringe necklace
Radhika was wearing at our meeting.
The first thing I tried on, because you
know
I couldn't contain myself, was this
abalone tentacle cuff
. The shades of the sea were lovely on my wrist!
Knowing that the stones in the jewelry are all real (amazonite, lapis, labradorite, and more–click
here
for a list of materials they use), I was curious about how they keep the prices so reasonable. There's nothing in the line over $498, and a large percentage of the pieces are under $100. The answer is that they use gold-plated brass. And I can tell you that the result is just beautiful! The jewelry is, "inspired by India's intricate and vibrant style…each piece is designed to fuse an effortless California chic aesthetic with the glamour of Bollywood." There are various collections, and each has a distinct vibe, ranging from very complex design, to items with cleaner, more Art Deco lines. In other words, there's something for everyone, no matter what your personal style.
Radhika explained how much time and effort they put into each and every aspect of design and production. For example, they spent 8 months perfecting their enamel process so that it doesn't chip. Here's a lovely enamel example in the teal and turquoise jaisel floral statement cuff.
This carved ink blue jaisel square statement ring also shows the fabulous enamel work.
Learning how to cut mirrors was also a big project. Many of their pieces have cut mirror, some of which resemble
polki diamonds
(often mistakenly called rose cut diamonds). I adore these
prism mirror statement earrings
!
I also tried on this
royal filigree tassel lariat,
which can be worn different ways. They come up with a new filigree print each year, so there's always something new to look forward to.
The matte finish on this
black pyramid luxe bib necklace
was killer. It's surprising lightweight, and it would be a perfect centerpiece for some of today's minimalist looks.
A couple of the gals who work at Isharya also showed me how to wear some of the body jewelry. So feminine and on trend!
This body chain would be fantabulous over a black strapless dress, don't you think?
All the pieces, no matter what their size, are definitely for the girl who wants to make a statement!
These amethyst moon bali earrings certainly have more of an exotic, Indian style. I can picture wearing them with a flowing caftan and gold sandals, poolside.
Of if you're looking for a more streamlined earring, then these
purple druzy three stone drops
are beautiful. (They also invested a lot of time perfecting how to set druzy so elegantly.)
And finally, because snakes are one of their signatures, I couldn't resist trying on this
serpent scale wraparound cuff
. So unique, and I love the colors!
I was lucky to also check out their upcoming fall line. While I can't share any photos with you (YET!), I will say that you will be wowed. I'll be sure to share highlights with you come fall. If this line intrigues you, then definitely check out their
website
. They also have retail presence in the US and in 50 other countries around the globe! (Click
here
to find your nearest location.) I hope that you've enjoyed this visit to Isharya as much as I did!