It must have been back when I was about 8 years old or so…my grandmother went on a cruise to Austraila, and she brought me back (what I thought was) THE most amazing necklace. It's pendant was a kangaroo with some opal chips in it. I had never seen an opal before, and I thought I'd died and gone to heaven! Well let me tell you, Australian-born jewelry designer Katherine Jetter takes opals and other Australian themes to a whole new level!
I was drawn to Katherine's booth at the Couture show because I had seen one of her rings in a glossy publication in my hotel room. It's called the Madame Butterfly ring, and it's made of hand-carved white opals, accented with diamonds and a Mandarin garnet in the center. Mesmerizing, right?!
Katherine is just as lovely as her jewelry, and she generously spent her time showing me her line and educating me about it.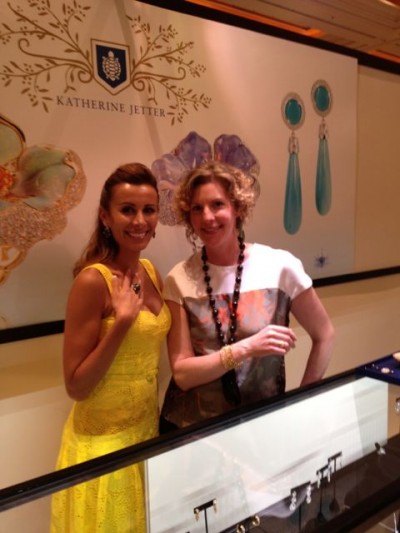 Here's a close-up of the stunning cuff I was wearing. It's made of 18K yellow gold with diamonds. The detail is amazing! Look at the turtle and the coral — it's just like you were under the sea! Speaking of turtles, this is Katherine's signature on all her pieces. Whether it's prominent, as in this cuff, or hidden in the back of a smaller earring, there is a turtle on each and every piece of her jewelry. According to Egyptian mythology, the turtle symbolizes good luck and protection. I love this sentiment and detail in her collection.
The main inspirations for her line come from her home country — the Great Barrier Reef and the Daintree Rainforest. Though she spent time in the corporate world, she was drawn to jewelry design over 6 years ago. I'm so glad she followed her heart, as her designs are truly unique! (And trust me, I've seen a lot of jewelry lines!)
Much of her collection features opals, sourced from Austaila, Peru, and Mexico. I'm not quite sure how she comes up with her exquisite designs, but here's a prime example. This is the Whitsunday Island pendant, which showcases a lightening ridge black opal that's over 34 carats! Combined with 18K white gold, diamonds and a moonstone chain, the result is fantastic!
Here is how she used white opal splinters entwined in sterling silver with pink mist tourmaline, to create a pair of earrings unlike any I've ever seen.
I'm clearly not the only one intrigued by her designs. She's definitely getting a celebrity following. Both Renee Bargh and Naomi Watts will be adorned in her jewels while walking the red carpet at the Australian Film Insitute Awards this Wednesday, June 27th. I think I'll have to tune in and check it out!