I may offend some of you by saying that I'm not the biggest animal person around — the only pets I've ever had were goldfish, and let's just say that didn't go so well. But I am certainly surrounded by many animal lovers in my life, and it seems that lots of them are over the moon for horses. While I'm pretty much petrified of said animal, I was very intrigued when one of my horse-loving friends started talking about horse hair jewelry. Say what?!
Turns out that there's a local company, On Deck Designs, that will custom make you jewelry using the hair from your horse's tail. Here's the type of bracelets they make.
Here's a darling photo of my friend's daughter and her trainer wearing their bracelets. The trainer received a bracelet for the holidays made from tail hairs from all 18 of the horses she trains. What a meaningful gift!
Here's a close-up view of their bracelets.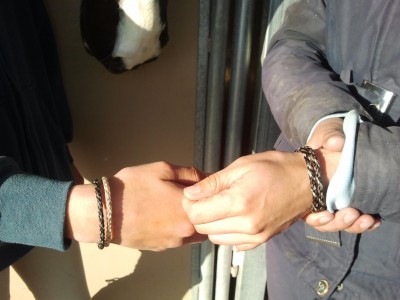 Upon checking out the website, I see you can even bling up your bracelet with beads and pearls!
If you are a horse-lover, then this type of jewelry is probably right up your alley! When searching the internet, I was just amazed at how much horse hair jewelry there is out there. Just goes to show that there are always jewelry surprises out there, even for jewelry die-hards like me!