Oh…tis is the season for graduations! 8th grade, high school, college…these gals are ready to take the next step in life! And there's no better way to mark these amazing milestones than with a piece of jewelry. Trying to find the perfect gift for someone can be a challenge, but I think if you consider their personal style then it might make the decision a bit easier.
During my 6-part series, Jewelry Box Basics, I discussed what jewelry each person should have in their jewelry box, based on their personal style: the lady who lunches, bohemian, rock star, minimalist, romantic, and the trendy gal. Now trust me, these personal styles can develop early, so just use your keen eye to determine where your grad might fall into the spectrum. Once you determine this, then you have a clear direction of where to start shopping. Here are some of my recommendations based on each personal style.
The Lady Who Lunches
You can never go wrong with pearls with this personal style. But given that the graduate is younger in age, you don't want to select a pearl piece fit for her grandmother. I love these earrings by San Francisco designer, Alana Leigh. The baroque pearls and the unique setting are so versatile — from jeans and a t-shirt to a cocktail dress.
The Bohemian
When the bohemian woman is building her jewelry collection, she is undoubtedly going to build up quite the wardrobe of statement rings. Selecting a gorgeous ring with an organic feel would be perfect. Case in point is this druzy ring by Peppina jewelry. It's simply stunning.
The Rock Star
Even if your grad isn't part of a rock-n-roll band, her style definitely reflects an artistic quality. This doesn't necessarily mean she's covered in tattoos or multiple piercings, but she still has that edge. In which case, this amazing bangle by Alexander McQueen would be spot-on for her.

The Minimalist
Granted, the minimalist won't necessarily be expecting a piece of jewelry for her graduation. In fact, she might not even know what to do with it at first! So the key here is to give her a piece that incorporates itself so easily into the minimal pieces that she already wears, that it becomes one of her must-wear pieces. Given the popularity of initial jewelry, choosing a simple, clean initial necklace by Jennifer Meyer is the perfect choice. It can easily be layered with other necklaces, or simply be worn on its own.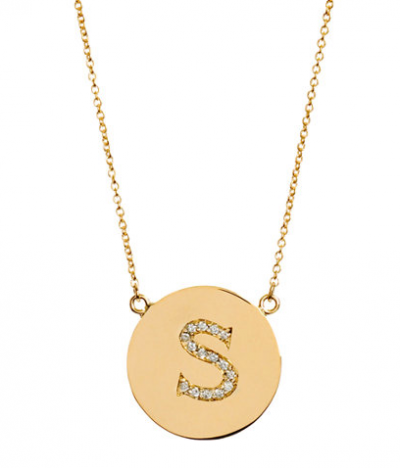 The Romantic
The woman with the romantic personal style typically has quite a sentimental bent. So giving her something with special meaning, like a birthstone piece of jewelry, would definitely warm her heart. I recently discovered the shopNBC.com site. (Who knew!?) and fell in love with this opal ring. (Happy birthday, October!) And a cool side note, this site offers something called "value pay" on certain items, where you can split your payment into monthly installments.
The Trendy Gal
Only the latest and greatest will do for the fashionista grad. Since you of course want to be on time for her appointments, the perfect gift for her will be a brightly colored watch to keep her on track. This stylish aqua watch by Kate Spade fits the bill perfectly.
I hope that you all enjoy this graduation season, and I send my very best wishes to all you grads out there!