How can it be that we're only days away from the Academy Awards?! The gowns, the jewels….oh my! Just before the Golden Globes, I wrote about how your evening bag definitely counts as part of the bling for your attire. (Click here if you missed that article.) I've waited until the Oscar's are upon us to comment about the other, yet equally important, non-jewelry item that definitely contributes to your bejeweled look. Yes, I'm talking about your shoes. (Totally get it if you just got a little shiver of delight.)
Neutrals are often the best choice to enhance a look and elongate the leg, and if you're just starting to build your evening shoe wardrobe, then I would suggest a neutral metallic and a dark neutral (black, navy, or charcoal, depending on your wardrobe). These will surely mix and match with your festive frocks. And don't forget to think about cost-per-wear. If you're a total socialite, out and about a few times per month, then it's worth it to invest in a quality pair of shoes, even though they may seem expensive at the time. You'll end up spending less than if you bought multiple pairs of less expensive options.
Here are 13 sparklers at a range of price points (some cost more than my rent, while others are equivalent to a dinner out), to tickle your foot fancy. And if you want more info about any of these, just click the link in blue.
Jimmy Choo black embellished suede
Ted Baker embellished sandal
Guiuseppe Zanotti gold crystal mesh sandal
Enzo Angiolini satin peep-toe sandal
Badgley Mischka bejeweled peep-toe pump
Manolo Blahnik jeweled slide
Kate Spade metallic sandal
Jimmy Choo gold metallic sandal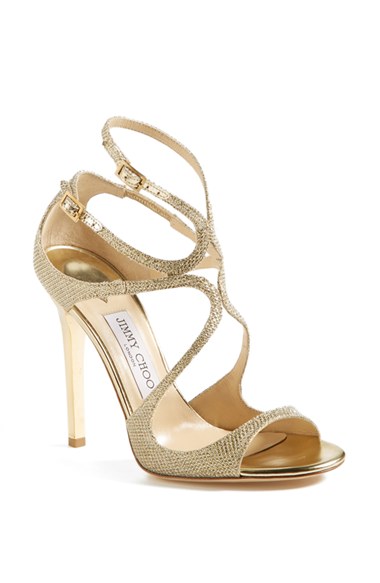 Badgley Mischka satin d'orsay pump
Nina ivory embellished strappy sandal
Oscar de la Renta beaded lace peep-toe
Givenchy jeweled sandal
So what do you think? Do any of these styles appeal to you? If you had to pick your favorite, which would it be?