About ready to begin my 16th year as a full-time image consultant and wardrobe stylist, a big part of my job is accessorizing my clients from head-to-toe. Jewelry, is of course, a HUGE part of creating the whole "look." I'm starting this new series, Accessorize Me, to demonstrate how to create different looks with the same outfit, just by switching up your accessories. Just as I do with myself and my clients, there's a total range of price points — I love mixing high and low to create the look I'm going for. I hope you enjoy it, and I look forward to all comments!
First up is this cool crepe jersey dress by Hemut Lang that I recently purchased for a client. She is a hard-working author, mom, and wife, so this dress has got to take her out during the day or to a cocktail party with her husband.
First, let's take it a little more casual, yet still with an urban edge. For this look, I opted for a long, statement necklace by Alexis Bittar. I just love the organic nature of the pendant with the clear lucite drop. In addition, the asymmetry of the pendant echoes the asymmetry of the dress. This necklace would work with a variety of outfits, for sure!
Complementing the look with a cool stack ring, also by Alexis Bittar, and a simple, yet lovely pair of hammered silver hoops by Argento Vivo makes the right statement. The pave crystals in the ring pair well with the pave detail in the necklace, without being to "matchy matchy."
To round out the downtown look, I chose a stacked heel by Anyi Lu (totally hot right now, and also referred to as a Cuban heel) and a simple black clutch by Oliveve.
Now taking it more uptown, I went with a gold theme. This client is a mix of warm and cool coloring, so she's lucky to be able to wear both metal colors. (If you're unsure what metals are best on you, click here for my article on selecting the right tone.)
First off, I went for a much higher and dressier shoe by Manolo Blahnik. While these are a big investment, they will get a lot of play from everything from dresses to jeans, so the cost-per-wear will be pretty good. Then this clutch by Diane von Furstenburg is a great combo with the gold/black theme.
And for the icing on the cake, we need some gold bling! I heart this bejeweled cuff by Jenny Packham, and you can't go wrong with these stellar mesh drop earrings from ABS by Allen Schwartz (at under $100, great bling-for-the-buck!)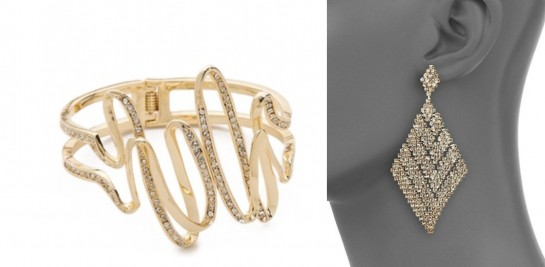 While this is only two looks for this dress, I think we're off to a great start. I'm sure we'll even bring it down to total casual with flat sandals, a denim jacket, some more bohemian jewelry, and perhaps a simple cross-body bag. This $290 dollar dress is going to become a major work-horse this season!