Yep, you read that right…track pants. And I'm not referring tothe version we wore in the 80's, with wide legs in shiny polyester and contrasting stripes down the side. Instead, I'm talking about a much more refined version, which has taken the leap from the gym to the street. With their relaxed shape, often with an elastic or drawstring waist and fitted ankles, they are becoming a definite staple in many people's closets (including mine!), and I'm here to show you how to make it work for you, whether your style is more casual and urban, or more sophisticated and uptown. There are countless versions of track pants out there, from Trouve to Eileen Fisher. For the sake of this post, I've selected a lovely silk charmeuse pair from T by Alexander Wang. (And don't forget, if something in this article piques your curiosity, all the links are right there for you to click on.)
First lets take this look a bit edgy. First, paring the pants with a fun, graphic
sweater by Joie
sets the tone that this person likes to have fun and be a little bit quirky.
This look definitely calls for a sneaker, and I think this interpretation of the slip-on variety by
DV by Dolce Vita
is perfect.
Now, for the bling. Let's start with the ears. I'm loving the ear climber trend (Click
here
if you missed my article about this.) and think this mis-matched pair by
Luv AJ
is awesome.
I'd forego a necklace with this ensemble, since the graphic design in the sweater is statement enough. I would add at least a couple bracelets, though. These two would be a nice stack, and then you can even add more from your own jewelry box. The first is by
Vita Fede
, and the chunky chain is from
Marc by Marc Jacobs
.
Sticking with the black, grey and silver theme, I think this ring by
Lauren Wolf
is a great choice. Don't you love the pattern in the rutialted quartz?
But of course, we don't want to be completely in neutrals, right? So throw on a chic cross body in your color of choice! Here's an example by
Rag & Bone
that would definitely add some
umph
to the ensemble.
I think you've now gotten the gist of this look. And remember, if you are drawn to this look, but you don't think it's quite your personal style, it's easy to adapt it for your own personality. Not a fan of the graphic sweater? Then opt for a solid one. Really not into asymmetry on your earlobes? Then wear a pair of earrings that you like. Make sense?
Ok, so now for a more polished look, using the same pair of pants. For this version, I started with a sleeveless silk blouse by Theory. I like that it's a bit fitted around the waist, which will give a nice shape when paired with the pants.
Most of my clients have found a fabulous leather jacket to incorporate into their wardrobe. If you think all leather jackets are "biker" with lots of hardware, then you need to hit the stores and see the wide range of options there are out there (including many faux-leather jackets).
Vince
makes some of my favorite styles, always with butter-soft leather and sleek styling. (And they just added sizes XXS and XL to their size run–yea!) True, they are an investment, but remember my whole cost-per-wear philosophy. If you pay a lot of money for something that you use ALL the time, then the cost-per-wear is
much
smaller than if you invest a lot in an item that you only wear once or twice. (Remember that black-tie dress hanging in the back of your closet from 10 years ago that you've only worn once?! And how much did it cost? Just sayin'…)
Selecting a higher heel shoe elevates this whole look (no pun intended), and I like this open-toe sling bootie by
Vince Camuto
. It's quite lovely, and the cut would elongate the leg. Yes, choosing an open shoe for fall definitely shows that I live in California! If you live in a region that actually has weather (Rain? I forgot what that is!), then a closed toe bootie or pump would be just fine as well.
For jewelry, I started with finding the perfect necklace, and I found it in this crystal montage by
Lulu Frost
. It's a little bit vintage, a little bit rocker, has some color and sparkle, and I think it would fill in the neckline of the blouse quite fabulously!
Keeping with the angular lines in the necklace, I chose this pair of
earrings by Campbell
for a complimentary look.
'
Here's how they look on the ear.
Next, it was a toss-up for bracelets and/or rings. I'm thinking that I'd do one or the other, but if your style is "more is more," then you may just opt for both. They carry the same angular design motif, creating harmony in line and design. The bracelet is from
Pamela Love
, and
Michael Kors
designed the ring.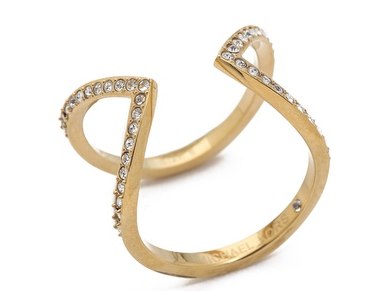 I like the idea of adding a bag that picks up the color in the necklace, and this one by
Time's Arrow
is very chic.
So there you have it…track pants dressed up and down, yet both most definitely stylish. So tell me, can you see yourself trying out this silhouette? I'd love to hear from you.