Many people associate sneakers with the gym or uber-casual clothing, but I'm here to tell you that you can really elevate your sneaker look. A few years ago, I spotted many stylish sneaker looks on women in Stockholm and Copenhagen. With the increasing popularity of sneakers here in the States, I even started a whole Pinterest board last fall called Sneaker Chic.
The key to looking pulled together is pairing them with an outfit with clean lines and in predominantly solid neutrals. Slip-on styles appear a bit dressier than lace-up options. And yes, you can even wear them with skirts and dresses if you've got the formula correct.
With fall merchandise now arriving in the stores, I've noticed many pairs of bejeweled sneakers on the shelves. Since I've often written about how blingy shoes and bags definitely count as jewelry in an outfit, I thought I'd give you some ideas of how to incorporate this trend into your wardrobe. And of course, both of these outfits I'm going to show you can easily be worn with a simpler, non-jeweled pair of sneakers as well.
First of all, here's a sampling of what I've seen coming in at a variety of price points. Definitely jewelry for your feet, right?!
Lanvin crystal-embellished skate sneaker
Halogen Turner slip-on sneaker
Miu-Miu jeweled cap-toe skate shoe
Kenneth Cole Reaction Salt King slip-on sneakers
Now that you've got an idea of what's out there, I first want to show you how to pair them with pants. I'd choose a slim (but not too skinny) pant that hits a couple inches above the ankle.
J.Crew has a nice option
in stretch black wool. This is a weight that's suitable most of the year here in California. (note: Wear the sneakers either bare-foot or with
peds
— you don't want socks showing, or it'll wreck the look.)
This would look great with a long vest, or as some retailers are calling them, "sleeveless coats." I think the cut and neutral color of
this one by Alexander Wang
is hot. If this isn't your color, there are many other options out there. (I just saw a couple at Zara last week.) Even a cool blazer would work if you prefer sleeves.
If it's still warm, then you can easily wear this with a black tank. If it's a bit cooler, or you'd like to make it more work-appropriate, then wearing it with a simple knit, such as
this one from Vince
, is a nice option.
Now that you've got this base of solid colors, then it's time to add some jewelry (My favorite part!). But I don't want it to be too complicated or distracting, as then it'll detract from the sneakers. I saw these
silver egg necklaces by Sophie Buhai
online, and I'm sort of obsessed with them. They come in two lengths, and I think the longer one would be ideal with the long vest.
Then you've got to keep it simple with the earrings. I would recommend cool studs and perhaps a subtle ear cuff for a little edge, depending on your personal style. Here are possibilities by
John Hardy (black chalcedony studs)
and an 
ear cuff by Campbell
.
The
Spinelli Kilcollin Andromeda ring
has exactly the right vibe for this outfit. If you're not familiar with his designs, they can be worn stacked on one finger, or spread out among multiple fingers. (
Check out this article
about my Spinelli Kilcollin ring.)
I like the idea of a menswear-inspired watch to go with the vest.
Shinola
(made in the USA!) has a classic design called the
Runwell
.
The finishing touch is a
sleek clutch by Alexander Wang
. I like the touch of grey to add some dimension to the outfit and resonate with the crystals on the sneakers. It makes everything not so matchy-matchy.
So now let's take it a different direction — how to wear sneakers with a dress. Again, I'm going to say keep it simple and clean with the outfit. This will make you look modern and sophisticated. For the dress, I chose this Rag & Bone ribbed stretch-wool design.
For both a little warmth and style, wear it with a
close-fitting leather jacket
.
You have options for necklaces. You can either go with a shorter necklace with some punch, or a longer silhouette. I opted again for a longer style, this one by
Erin Considine
, as I like how it elongates the visual line and gives a little texture to the ensemble. I also like how the gold warms everything up.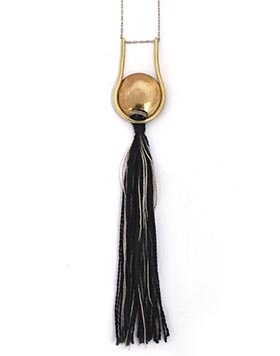 These
Amber Sceats earrings
are a homage to the
Dior
originals, which do in fact appear to be coming a classic. (Who knew?) They are meant to be worn with the larger ball behind the ear.
Picking up on the gold, I'd add this
large ring by Jennifer Fisher
. Feel free to go for more than one ring, if that suits you.
Chloe has a new bag
out, and I think it would rock with this outfit.
The result of all these pieces put together is a sophisticated, urban woman-on-the-go. Is this your personal style?
If you could see yourself creating some sneaker ensembles, I encourage you to go play in your closet a bit and see what you can come up with. Use these ideas, and the looks on my Sneaker Chic board as inspiration, and then see how you can adapt it to your own style.
Keep your budget in mind, and remember the cost-per-wear principal. If it's something you'll wear a ton, then the cost-per-wear will go down and it'll be a better investment. If it's an item that will be worn infrequently, then see if you can find a less expensive version that will give you the same look.
And if your are so NOT a sneaker gal and you'd rather wear heels, then go for it! As with any fashion trend, it's all about staying true to you!