When Thanksgiving rolls around, a time for family and friends, I start to pull out some of my more sentimental pieces of jewelry. One day it might be my Nonie's engagement ring, with its center stone of deep blue glass, weathered with her years of hard labor keeping up the house and garden. Or maybe it's my mother's childhood locket, layered with some other necklaces. Whatever the case may be, these pieces hold a very special place in my heart. Clearly Luika, who I've known my entire life, feels the same way, as her jewelry box is filled with meaningful treasures. In this third installment of "Into The Jewelry Box," I had the opportunity to explore some of Luika's wonderful memories. The first ring that jumped out was this stunning, large citrine cocktail ring with a delicate gold setting.
As is often the case with jewelry, this ring had a story. She and her husband attended a very special Christmas party at the Kennedy Center in 1997. Each year, a different embassy would host the party, and that year it was hosted by the Ambassador of Brazil. After the main program, select guests were invited to a formal dinner, beginning at 11pm. (Late!) The ladies in attendance, including Luika, were given a special gift from the Ambassador — in this case, this lovely ring. How generous!
She also has a collection of many colorful rings, modeled by yours truly.
The top one in the photos is a vintage jade ring — the color is really exquisite. The next one is a beautiful blue star sapphire set in white gold. This was a birthday gift from her husband back in '62 or '63. I was really intrigued with the blue star-cut ring. While the blue star itself is a manufactured stone, it's surrounded by 5 small diamonds in white gold. It belonged to her mother, so I would place the ring to be from somewhere in the 1930's. It's so fun! And finally, the double amethyst, which was designed by H.Stern and bought on vacation while in St. Thomas.
This next bracelet is just so cool, and it was a wonderful gift from her husband. He had it made for her, and it's gold-dipped pennies from 1957, which is the year they first met and had their first date. How romantic is that?! It was one of their customs to always throw pennies in fountains for good wishes, even after they were married. I think my eyes may have gotten a bit misty hearing this story.
Another very meaningful set for the two of them is this marcasite necklace and earrings, which was her bride gift on the day of her wedding from her loving groom.
Luika was born in September, so her baby ring is set with a sapphire. I think the setting is fantastic. Clearly she was an elegant baby!
Her Benrus evening watch is a classic. This NYC-based watch company was hot, hot, hot in the 1900's. I wish I could hear the watch tell stories of where it has been.
And finally, I saw these two cameos, which belonged to her mother. Such beautiful detail!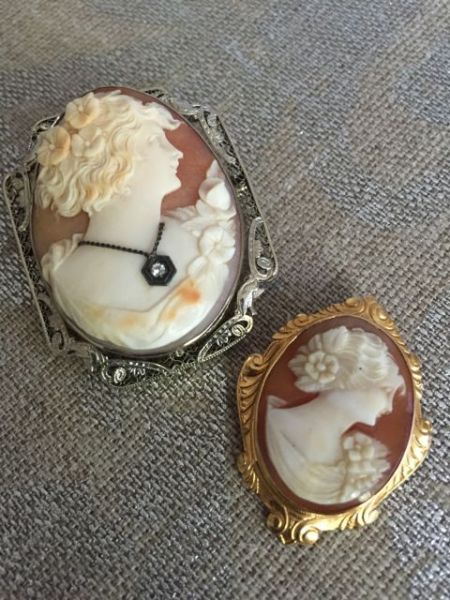 As you can see, looking through her collection is like taking a walk down memory lane. Do you have pieces like that in your jewelry box? Perhaps some of your Thanksgiving companions will be wearing bits of history themselves– you may want to inquire about what they're wearing, as there may be a great story behind it.
Happy Thanksgiving to you all! xo, Amy:)