These past few days, as the weather is finally turning to fall here in northern California, my mind has been focusing on neutral tones and feeling cozy. I think it's a combination of all the craziness going on in the world and the cooler temps that has me wanting to hunker down and feel grounded. This starts by deciding what gems I want on my body, and what colors and fabrics give me this feeling. My current answer? Grey. It's soothing, serene, and full of depth. I absolutely adore grey diamonds, and I long to have more of them in my life. Here are a few grey diamond rings that truly call to my soul.
First up is this three stone ring, with two grey diamonds and an emerald cut champagne diamond by Lauren Wolf. Honest to God, if I were to get engaged right now, this is THE ring I'd want on my finger. Absolutely no doubt. (And yes, I've tried it on and it's even more spectacular in person.)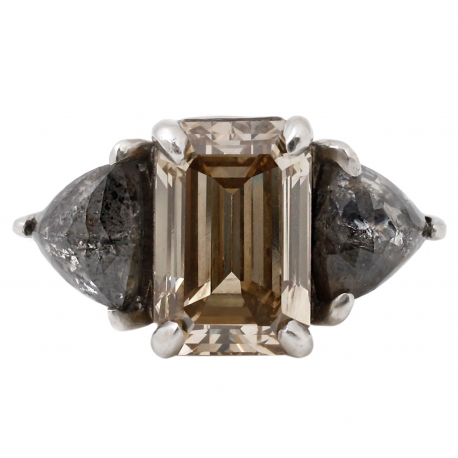 Lauren's grey diamond eternity band
would be perfect on my right hand as well.
And then last week as I was scrolling through Instagram, my heart skipped a beat when I saw this
custom diamond ring from Point No Point Studio
. The color and the geometry of the design are fab, don't you think?
Alexis Russell
always wows me with their combination of bands and stones.
And what do I want to wear with these rings? Well given that it's that seasonal transition time, I want to make some
white J Brand crop flared jeans
work with the cooler weather. Yes, us Californians DO wear white after Labor Day! To do this, I'd trade my summery tops for a
chunky grey cashmere turtleneck
(this one is Barney's own line), some
distressed Marsell boots
(one of my go-to shoe brands) and top it off with a
Faliero Sarti scarf
. Yummy, right? And the boots don't have to be the same exact tone of the sweater — just neutrals that blend.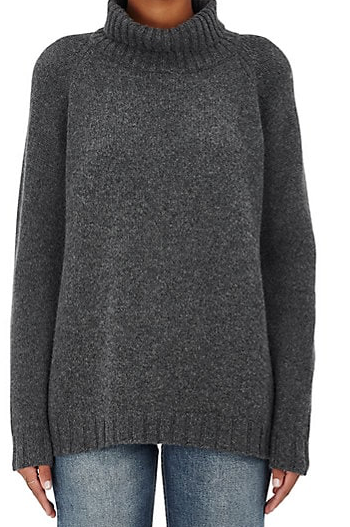 So back to some more grey diamond rings. Communion by Joy has been on my jewelry lust list for quite some time. The design of the settings, the textures and the stones are so unique. Here's their
Royal Guardian Rustic Diamond Ring
.
I can easily envision the ring stack I'd create around this
Rebecca Overmann three diamond ring
.
And
Anna Sheffield
definitely has my attention with this Juno ring. Did you see it on
my Instagram feed
when I got to try it on in person a while back in New York City??
Any and all of these stunners would be perfect with another cosy outfit I have in mind. This one is comprised of some
Frame jeans with an asymmetrical raw hem
, a killer
Raquel Allegra sweater with an eye motif
, a pair of
Golden Goose sneakers
, and topped off with a
metallic leather bomber jacket by Rick Owens
.
Oh, and a couple tips from the wardrobe stylist about the Golden Goose sneakers — I'm addicted to them. (I have three pair!) BUT, I hate the sole insert they come with. They have a very raised heel and are uncomfortable for me. So, I toss those and put in a pair of
Superfeet insoles
. And voila, they're perfect. AND…since I don't like going sockless and those little ballet flat peds never stay put, I swear by
Hue's hi cut peds
. They work perfectly, and the high profile on the top works just right with sneakers.
So now you know what's been on my mind. I hope you've enjoyed this peek inside my thoughts. Now, I'm going to spend the rest of the day getting my closet ready for the season — packing away my linens, sandals and summer items, and pulling out the boots and flannel. I don't know about you, but I'm ready for the change!
SaveSave