As a long-time fan (and collector) of the Armenta line, I was just thrilled to spend some time with Emily at the Couture show. She was everything I thought she'd be and more! With her long, dark hair and fair complexion, she was just what I'd envisioned as the creator of such beauty. Both her and her line have an almost other-worldly quality to them, with nods to earlier times in history.
Born into an extremely artistic family (mom paints and sculpts, dad is a writer and sister is a poet!), Emily told me she began to sketch jewelry as soon as she could hold a pencil. Though she did go the route of working as a trader for Morgan Stanley, she knew it just wasn't the right fit for her. While in business school she created the plan for her jewelry business, and she launched in 2002. From the sounds of it, she did everything in her power to make it work! One of her money-making ventures was buying cars at auctions and then re-selling them. She dumped every cent of profit into building her business, and I'm so glad she did! Not only that, but her whole line is hand-crafted right here in the USA. Brava!
Inspired by the Spanish poet Fedrico Garcia Lorca, Emily learned of duende, which is "…a spirit of unpredictable passions that surges within us, and how it manifests itself as a creative force." Black and gold are a big part of her signature, and here's a perfect example of how she expresses herself in large, statement rings.
Personally, I also just adore her bangles. I long to have a collection of them, stacking them with other bracelets I already own. The creative combinations would be endless with each bangle added to the group.
Working with 18K yellow and rose gold, oxidized silver, and incredible stones, she also launched a "New World" collection in 2011. This group is made of sterling silver with a platinum wash. I asked her about how she finds stones with such amazing colorations. Turns out that she often fuses two stones together, which are called doublets. For example, she'll fuse boulder opal to sandstone. Not only does this create fascinating hues, yet it also creates a stronger stone. Who knew?! Here are some rings from her New World collection.
If you read fashion magazines, you may well recognize this following photo from her current ad campaign. In addition to her jewelry, she also has started a handbag line! Made of exotic materials such as crocodile and python, many of the evening bags have removable straps. Her wrap leather cuffs actually clip on to the evening bags for an ultra-chic wristlet look. How creative!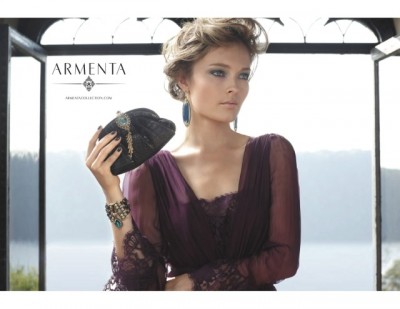 If you live in the San Francisco Bay Area, and you are intrigued by this line, then it's your lucky day! This Saturday, September 8th, Emily will be making a personal appearance at her trunk show at Neiman Marcus in Union Square from 10-5. This is a rare opportunity to meet her in person, so don't miss out!