I am (clearly) obsessed with jewelry, and interior design is not far behind. In my post about jewelry storage I made reference to using jewelry as decor, but I'd like to take it one step farther.
I'm currently working on a home decorating project for a client, and I knew that she loved jewelry as well. While we were shopping in Carmel for home decor objects, we visited one of my favorite shops, Conway of Asia. When you walk into this establishment, it's basically like walking into an Asian/Middle Eastern art museum, yet you can actually buy all the amazing artifacts you're looking at! (How cool is that?!)
This was the display in the window that greeted us:
Using this as inspiration, we were privileged to scour though bins of antique beads to assemble an interesting, layered ensemble to display in an antique tray from Afghanistan. No, this is not your run-of-the mill decor from Pottery Barn, but trust me — it truly adds some interest to my clients' living room. A conversation piece for sure!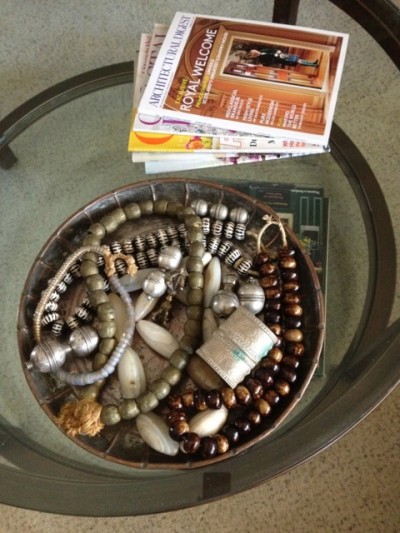 Using jewelry as decor doesn't have to be overly involved, either. With another client, I added just this one piece to her sideboard — it's an antique African wedding bracelet. Placing this ancient artifact on such a modern piece, next to a simple glass lamp, in front of an Italian guilded mirror created interest in the space.
I hope that this inspires your inner interior designer. Look at your surroundings with a fresh eye and go for it!