Perhaps it's because I live in San Francisco, which hosts one of the biggest Chinese New Year's parades outside of China (no joke!), but the Year of the Snake (according to the lunar astrological calendar) is getting lots of press! This is translating right down to a resurgence of snake jewelry. Now this is certainly not a new theme. Everyone from Cleopatra in ancient Egypt to women of the Victorian era have donned this slithery creature in many forms. Purported to have powers of healing and protection, I've seen snake jewelry everywhere from the red carpet to the wrist of a teenage girl in my building.
Here's Lorraine Schwartz's fine adaptation as seen on Kim Kardashian.
And the Philipp Plein runway wouldn't have been complete without these snake cuffs.
Here are a few more user-friendly options. The first is a stretch bracelet by Cara, that would be a great spring addition to your bracelet stack.
If you'd rather go for a neutral metal, then you might like this brass cuff by Jennifer Fisher.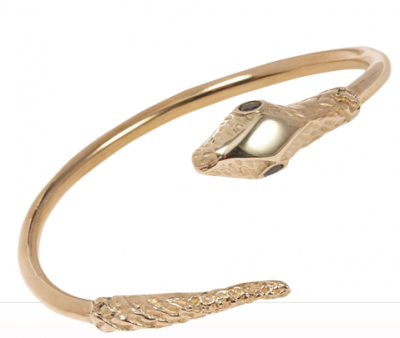 Here's a nice combination of gold and emerald (one of the hot colors of the season) by Isharya.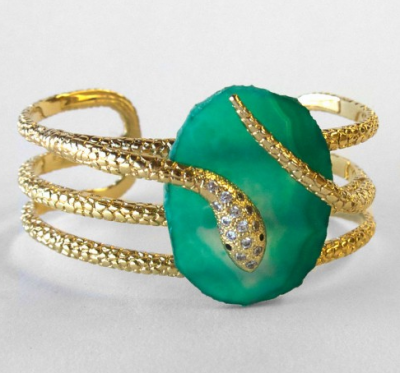 Keeping with the green theme, these drop earrings by Sara Weinstock are pretty amazing!
You can also take a more minimal stand with these studs by Elizabeth and James.
There are also many incredible snake rings. Some of the designs are so creative, that you have to really look at them to tell what you're looking at. Take this two-fingered ring by Ileana Makri.
Finally, for a more cost-effective way to wear the trend, this ring by Julie Vos will do the trick.
While I'm not sure that I will be adding any snake jewelry to my collection (truth be told, I still think snakes are a bit creepy), I am very impressed with all the beautiful and creative pieces out there. If snakes are your thing, then enjoy all the possibilities!