I've had a crush on Brooke Gregson's jewelry line for many years, and I was lucky to have the opportunity to meet her in person and play with her jewels at the Couture show. Does her name sound familiar to you? You may know her for her well-known woven silk bracelets with gemstones. Simply divine.
If I had my dream, I'd probably pick this
boulder opal ellipse silk and gold bracelet
for myself. Isn't it gorge?!
The lovely Brooke was raised in California and now lives in London. She has studios both in her Notting Hill neighborhood and in Los Angeles. Since founding her business in 2004, Brooke has always maintained strict quality in all her pieces, each hand-made with the assistance of master craftsmen. I was particularly entranced with her
engraved pieces
. I don't know which of these three rings I like better. The engraving is all done by hand, and is inspired by her watercolor paintings. (Yes, she paints too!)
Can you see the wide array of colors in the boulder opals? Brooke carefully selects each stone she works with and often chooses gems which others may have overlooked, as they didn't seem "perfect enough." It shows how she can see the beauty within. This substantial cuff is another in her engraved series. No…I did not want to take it off!
The two collections meld together effortlessly, as seen in this stellar stack she posted on her Instagram feed. (If you want a riot of color in
your
feed, I suggest following
Brooke Gregson
.)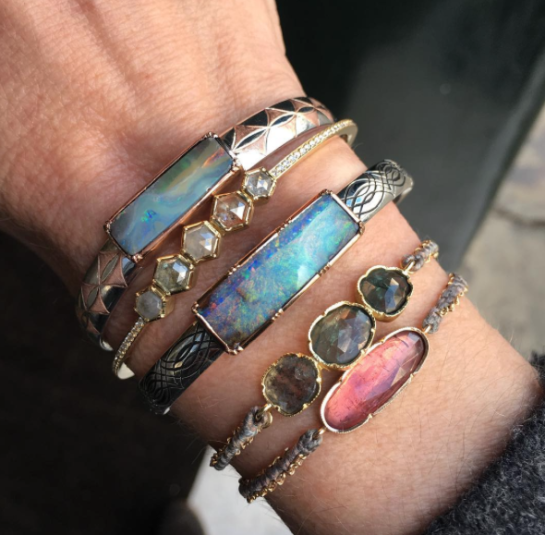 I was also drawn to her
Ziggurat collection
, so named for the rectangular stepped temples from ancient Mesopotamia. Here are two rings from this group.
The larger of these two rings is named the
Hoffman Boulder Opal Sapphire ring
. Don't you think the color combination is so unique? I think Brooke's talent in painting and drawing has really opened her eyes to mixing colors in ways that others may not think of.
Here are some Ziggurat necklaces layered together.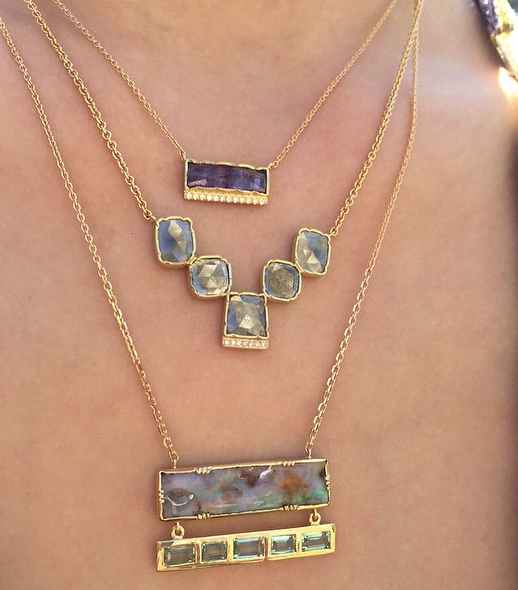 Once again, I'm in awe of the colors in this complex Ziggurat necklace, composed of boulder opal, turquoise and pink sapphires. It really pops!
If you're looking for some alternative bridal rings, one of these may be what you're looking for. I've got on the Eclipse Diamond Ring and the
Ziggurat Frame Diamond Ring
. Which would you choose?
Truly, this line is organic elegance at its best. It's a jewelry goal to one day own a piece myself. Thanks so much for spending time with me, Brooke! I look forward to our next meeting.