What do you get when you mix an architect with an outdoorsy, yet elegant gal who lives in the Austrian Alps? Well you may not guess, but a talented jewelry designer! I was thrilled to meet Elizabeth Weiss-Lasater of Baukunst Studios last week during a special trunk show in San Francisco.
With a masters in architecture from Columbia, Elizabeth and her architect-husband moved to Austria for a huge project. During this time, working long hours in freezing-cold conditions, she realized that this was not what she wanted to be doing. But with her love of geometry, form and design, she made the move to jewelry design about a year ago. It started with her wedding rings. Her husband didn't want to wear one, so she said, "Fine, then I want two!" (Love that!) Here I am wearing three of the rings she designed (she wears two for her wedding set).
Elizabeth begins the creative process with sketching. These designs are then transferred into 3D images and a plastic mold is made. She wears the plastic models, road-testing it and tweaking if necessary. Only then is the piece cast in metal. (She casts both in the USA and in Europe, depending where her client lives.) Here you can see the plastic model and the finished bracelet.
The word is getting out on this fresh line. Her hexagon bracelet was recently featured in 1st Magazine in Austria, which would translate to something like Vanity Fair here in the States.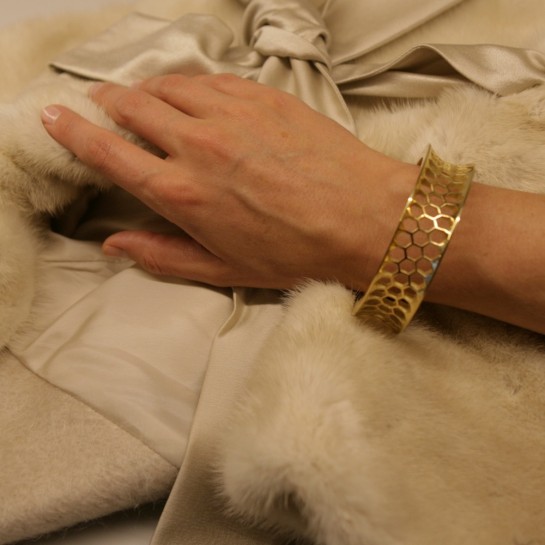 The designs are very clean, modern and comfortable to wear. Case in point is this bracelet.
She is growing the line, and earrings will be coming soon. I look forward to seeing the new pieces!