It's pretty amazing how many times I've crossed paths with Vicente Agor the past 10 years, and I don't think it's an accident. It all started when I purchased these gold Moroccan window earrings from Manika Jewelry in celebration of my high school reunion about seven or eight years ago. (If you don't know it yet, I'm ALL in favor of self-gifting for anything from one's birthday to it simply being a gorgeous Saturday afternoon!) They felt exotic to me, and I imagined peering out a window of that shape to a glorious sea-filled vista.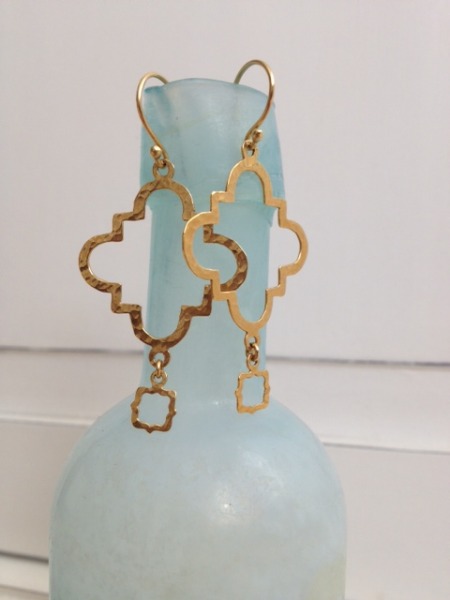 Since then, I've seen him at various trunk shows in San Francisco, and it truly amazes me how he always remembers me and those earrings I purchased so many years ago. Much to my delight, I finally was able to spend some quality time with Vicente, and his "silent-ish" partner, Michael Pfeffer, at the
Couture
show in Las Vegas. (Oh, and let's not forget the "interesting" dinner at Tacos el Gordo!! That menu is etched in my mind.)
Not only is this San Francisco-based duo supremely creative, but they had me laughing so hard a few times, that it was hard to take a steady photo of the jewelry! Now in business for ten years, the line has just exploded, and the pieces I saw and tried on really just blew my socks off. Here's my colleague, Jen, trying on a large labradorite and diamond ring, which was inspired by Film Noir and the foggy waters off San Francisco.
Vicente survived a kidney and pancreas transplant, and since then it's changed how he looks at life. Vicente and Michael are both adventurers, and they have vowed to each other to visit at least one new place each year, be it Thailand, Arkansas, or wherever. They translate their travels and personal experiences into each piece, exposing their clients to something new with each creation.
The first ring I tried on is this rock crystal stunner from the Antarctica collection. The enormous rock crystal within a rock crystal does in fact resemble an iceberg, doesn't it? Vicente saw a photo of his father, who was one of the first Filipino officers in the US Coast Guard (how cool is that?!), and this inspired his design. In fact, his father helped select the colors of the stones in this ring. Vicente chuckled as he told me that of course his dad chose Paraiba tourmalines, which only are found in one mine in Brazil that is now closed. Why am I not surprised that exquisite taste runs in the family?!
This Ice Crystal Bracelet is also part of the Antarctica collection, and its hand-set diamonds certainly make it sparkle!
This next ring is from the
Volcanico collection
, inspired by his time living in Hawaii. The center stone, a fantabulous (yes, that's a word in the "Amy" dictionary) fire opal, is the molten lava, and you can see the waves on the side. The diamonds between the two represent the new land that is created when the lava hits the sea. It's a visual delight!
I couldn't help but notice these necklaces as well, with their mesmerizing diamonds, aquamarines, and chrysophrase. The fluidity of the design can be described as "sensual, not sexy." I love that!
I have to say that there is an astonishing attention to detail in this line as well. One of the most clever things I noticed was how the hook is designed on some of their earrings. It's created in such a way that if your piercing has stretched out a bit over the years, their earrings will totally camouflage this. The front of the earring extends a bit above the hook, thereby hiding the hole. Genius! Here's an example in a pair of labradorite earrings from their
Swell collection
.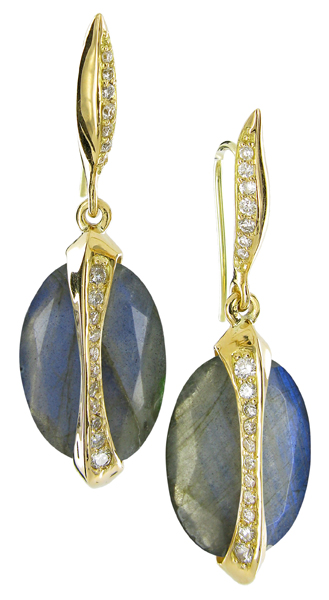 Vicente Agor jewelry is available at stores across the United States (click
here
for a list), as well as online at
Accessory Artists
. What a treat it was to spend time with Vicente, Michael, and their stupendous line. I can't wait to see what comes off the bench next.