Yesterday my mom and I jumped on a plane in San Francsico. After a ten hour flight, we landed in the gorgeous city of Copenhagen, Denmark. It was only 1:00 in the afternoon, and we knew we'd have to stay awake until bedtime, or we'd never be able to get on the correct time zone.
Luck would have it that Lene Vibe, the uber-talented designer I wrote about back in 2012, was in town! (Click here if you'd like to see that article.) So just a couple hours later, we found her ourselves in her studio.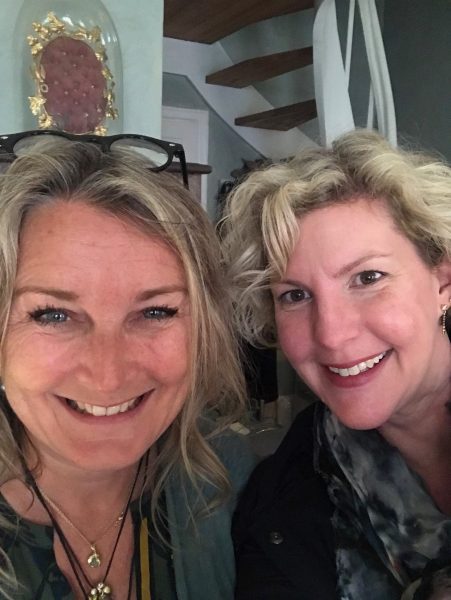 Granted, I may have felt like the walking dead after being up for over 24 hours, but nothing like a friendly face and stunning jewelry to perk a girl up, right?! While I had visions of Lene's studio after getting to know her over the years, it completely exceeded my expectations.
You'll find her studio housed in a two story terra-cotta colored building built back in the 1700's.
The lighting is a bit magical, and you feel as if you've been transported through time when you walk through the door. You don't quite know where to look first — at her workbench, strewn with tools of the trade, the array of antique odds and ends carefully displayed throughout the space, or, of course, on her jewelry. As I walked around in awe, I couldn't believe that I was actually there in person. (When I just re-read my first article about her, I ended it saying how much I wanted to visit her studio one day, and here I was!)
Jewelry, anyone?!
I was delighted to see her work benches.
I recall the first time I met Lene, she described this old safe from the early 1800's that she used to store port wine for her customers. And gosh darn, there it was in person, complete with the hole in the back where someone tried to break in back in the day!
Lene recently enlisted the help of a talented friend to convert her second story to a wine bar. Never let it be said that this woman doesn't like to enjoy life and treat her clients like family!
Alas, we had to call our visit to and end, but I couldn't have imagined a better way to start of our trip. Thanks to Lene for having us. And I can't wait to start exploring the grand list you gave me of shops, restaurants, and other sites to visit.
On that note, the rain has just cleared, and we're out the door to explore Copenhagen!