Jewelry inspiration struck while working with one of my clients in NYC this season. I've always admired this stack she wears, with an inscribed ring for each of her four children, book-ended by two diamond eternity bands.
While we were out shopping one afternoon in Soho, she picked up this skinny ring with a black diamond bar at Michele Varian. Paired with the slimmest of rings that she was already wearing, it felt just right.
So back in California, I had to dig out my thin stacking rings and see what I had to work with. I have owned these three gold and diamond stackers for years. The top one is by Nina Basharova, I have no clue who made the middle one, and the bottom one is by Armenta.
I do love these rings, but I needed to mix it up a bit. So I headed over to the Gallery of Jewels on Fillmore Street in SF. There, I picked up these silver rings by Amery Carriere. One is oxidized, and three have a tiny diamond accent.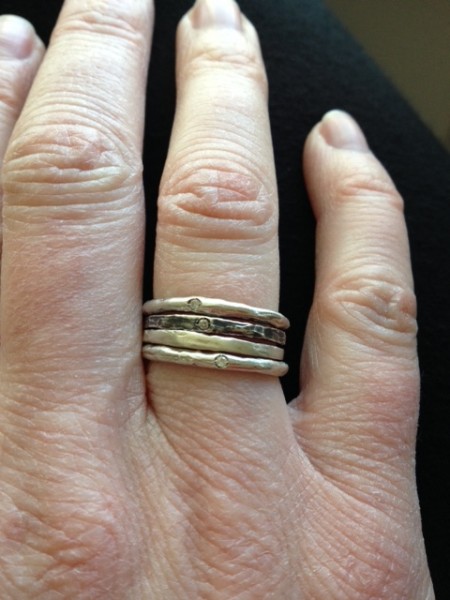 Then I decided, why stop at just silver and gold? How about throwing in a little rose gold? This slim ring by Zaiken Jewelry did the trick.
The final addition was a silver ring with a tear-drop raw, green diamond found at Upstairs at Pierre Lafond in Montecito. (One of the benefits of having clients all over the place is the chance to jewelry shop outside of my 'hood!) Now, I can really start getting creative. Here are two different stacks I've worn in the past week — one with more of a silver vibe, and one veering more towards gold.
With my interest completely piqued, I've also been searching around Pinterest for more stack-tastic ideas. I love this combination by Blanca Monros Gomez, sold at Catbird. Elegant!
And what about this collection with black diamonds? Fab-ooo!
I think I've only touched the tip of the iceberg with the skinny stacks. I will have to try and restrain myself the next time I'm in a jewelry store…or not. 😉