OK…I'm going to show you two images from Ananda Khalsa's website and I want you to think about the feelings they evoke. Think about adjectives to describe them. Are you ready? All right, here they are:
What words came to mind? For me, adjectives such as feminine, colorful, organic, and fit for a bohemian goddess popped into my head. Although I first started becoming familiar with
Ananda's gems on Instagram
, I was lucky to meet her in person and play in her cases at
the Couture show
. All I can say is that the line was even better in person!
I actually got to try on the vibrant tourmaline necklace from the second photo above.
And what about this stellar trio of rings, the middle featuring a delicious boulder opal?
And then there's her inviting
chandelier earrings
, such as these with labradorite and garnet.
She also has a
silver collection
in her line, with equally beautiful detail.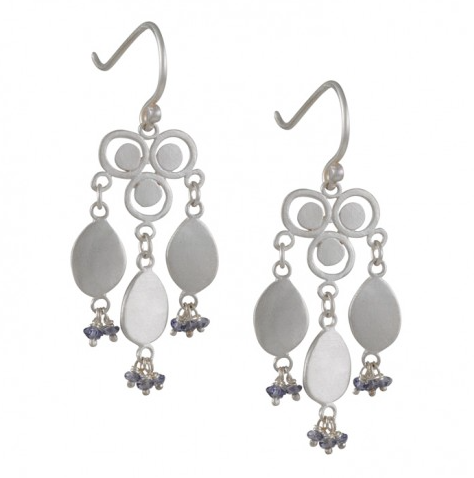 Seeing all these incredible designs got me thinking about how I'd style them. (After 18+ years as a wardrobe stylist, this is the default setting in my brain!) Given that the line definitely has a more bohemian vibe with a nod to ancient jewelry, I thought it'd be fun to share how I'd incorporate Ananda's jewelry into a whole look. Spring/summer would be easy — a Grecian dress, gladiator sandals and layers of jewelry to start. But what about now, when it's getting cold outside? For a great, casual everyday look, I'd start with a feminine blouse, perhaps with some lace detail and a killer suede jacket. This
ivory Rebecca Taylor blouse
and
wine-colored suede moto jacket from Capulet
set the tone. (FYI, wine is a HOT color this season, and it looks great on a variety of skin tones.)
Given that jeans are a staple, I'd go one of two routes. The first option is a skinny jean tucked into tall boots. I picked a pair of
jeans from Good American
, as they just debuted two weeks ago, and they come in sizes 0-24. (Can I get a "hallelujah" on that extended size run?!) I ordered a pair for myself, and I can say that I give them a thumbs up. They are built for curvy girls, they are high-waisted (no muffin top!) and the stretch is fabulous. They are clearly flying off the shelves, as the style I ordered isn't even available anymore! I like the scrunchy vibe of these
Steve Madden boots
to go with them.
The second look for jeans and boots would be to pair a
cropped, frayed "let down" hem jean
, such as this pair from
Current/Elliot
, with a pair of ankle booties. These
grey booties from Rag & Bone
definitely would fit the bill.
Let's imagine you have a pair of Ananda's chandelier earrings on with this outfit, and you've got other piercings as well. She's got you covered with a variety of
stud earrings
.
Personally, I may also add this
turquoise and diamond ring
. Can't go wrong with it! Heck, I'd wear rings on multiple fingers!
Ananda also has another very unique collection in her line which I can't help but mention. She paints small watercolor pictures and then sets them under crystal. They have either gold or silver bezels and many have gemstone accents. Have you ever seen anything like it? This girl has #talent! If you go to her website and click "painting" you can see she has
17 different themes
to her painting jewlery, from koi fish to ravens to willows.
All Ananda Khalsa jewelry is made in studio in Northampton, Massachusettes. If you're interested in seeing more of her line,
click here to see a list of retail locations as well as three online shopping sites
.