I make it a point to visit Montecito and Santa Barbara at least once a year. I just love the beachy atmosphere, the stunning views, and of course…the shopping! This past week I visited one of my favorite destinations in Montecito and discovered a very cool new shop on State Street in Santa Barbara.
To put it bluntly, I'd pretty much like to live in Maison K. The neutral palette highlighted with metal, glass and exotic materials just speaks to me. Kimberly Phillips, the store's owner with a discerning eye and fabulous taste, finds treasures from around the globe to share with her clients.
What really caught my eye this visit was the extraordinary case of jewelry she just brought back from Istanbul. I didn't know where to look first–pearls? coral? turquoise? gold? Oh my, the choices!
This is definitely a must-stop for unique jewelry that you most certainly won't see coming and going.
As I did my stroll along State Street in downtown Santa Barbara, checking out all the familiar windows, I did a double take. (I love when a new store pops up!) Plum Goods is the creative product of Amy Cooper, and it opened just this past October. It's a very eclectic shop with everything from jewelry to art to gift items. I just adore her motto, which is on the front window.
Much of her merchandise is made by local artists, which is a huge plus in my book. Her wares are hand-crafted, fair trade, recycled and eco-chic. I spent quite some time perusing the various cases of jewelry, when a buddah necklace by Iris di Santo really caught my eye.
So for those of you who know me, jewelry with a buddah is right up there with horn pendants as part of my signature style. I don't think you need to think too hard about whether or not this necklace went home with me.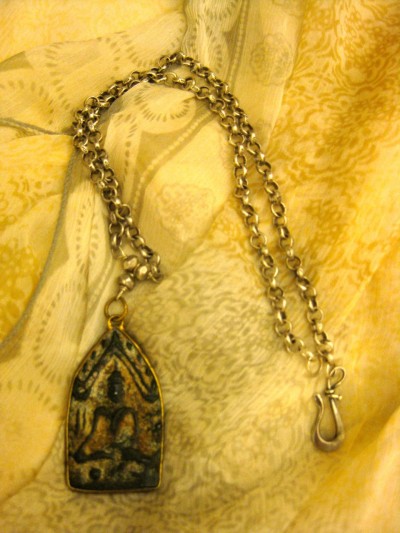 So next time you are lucky enough to find yourself in the Santa Barbara/Montecito 'hood, definitely check out these two gems in the world of retail and enjoy!