If you're looking for red-carpet worthy pearl jewelry, then look no further. Yoko London is the answer! In fact, you may remember back in January I included Zendaya, wearing Yoko London earrings and ring, in my jewelry report from the Golden Globes.
Thanks to
D'Orazio and Associates
, I was able to spend some quality time with Mandy Namdar at the Yoko London booth at the
Couture show
. Mandy, along with her two siblings are the second generation in a now three-generation jewlery business, started back in 1973 by her father. (The line is still made in London.) Within moments of our introduction, I found myself wearing this bold pearl and diamond lattice cuff from their Classic Collection. I've never tried on anything like it.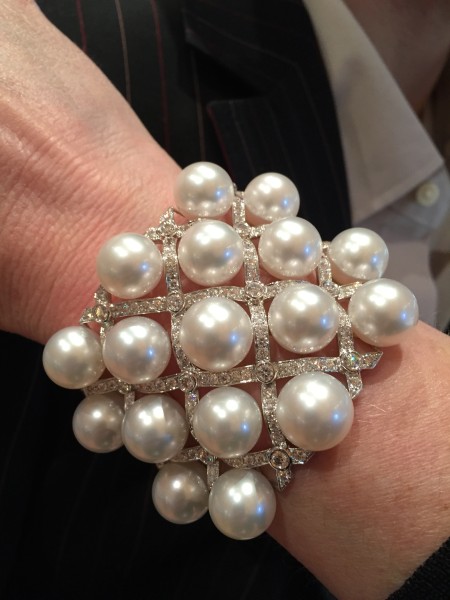 Perhaps your personal style veers towards a more minimal look, yet still with the wow factor? Then this bracelet might be calling your name.
Yoko London is known for the ombre effect they create with pearls, as shown in this three-strand necklace.
This year at Couture they were debuting their tassel collection, which this necklace and earrings are a part of.
Showing the range in their collection, compare the exquisite detail of the earrings above with the cleaner lines of these two pair.
Then, they go very fashion-forward and edgy, yet still elegant, with ear cuffs such as this one.
The same goes for their rings. From a
major
pearl statement ring to a unique multi-finger option. I could picture myself wearing either of them, depending on what I was doing that day!
I think one reason they have such a diverse line is that they let the pearls dictate the designs. Mandy told me that sometimes they may wait a year for
just
the right pearl to come along to complete the vision for a piece. That is supreme patience and dedication. I can't imagine how long it took to select just the right pearls for this necklace.
And should I ever find myself attending a function with the Royal Family of ANY country, this would be the necklace I would want to wear. Wow!! I can envision it with a dreamy multi-layered chiffon dress in hues of the sea, with a plunging neckline to showcase the necklace…
Mandy, thank you SO much for sharing your time and expertise with me. Your passion for jewlery and connecting with your customers is truly contagious. I left smiling and with a new appreciation of pearl jewlery.