Monday evening Wilke's Bashford hosted "A Time to Dazzle" in their beautifully remodeled San Francisco store. You know that I was one of the first to arrive, eager to view the spectacular array of goodies in the cases. Here are the pieces that really caught my eye (but in no particular order).
1. Two bracelets by Yossi Harari — The one with white diamonds is called the "corset cuff," and the one with cognac diamonds is named the "bubble Lilah cuff." Stacked together…wow!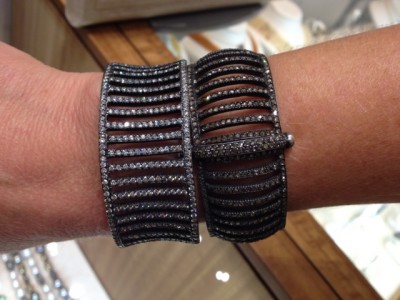 2. A trio of aquamarine and diamond rings by Loren Jewels
3. An art-deco feeling diamond and ruby bead necklace by Oscar Heyman
4. A new take on the diamond hoop — "confetti" cognac diamond hoops by Paul Morelli
5. The perfect necklaces to wear everyday — druzy and diamonds by Kimberly McDonald
And trust me — this list could go on and on!