One of the coolest parts of attending the Couture jewelry show was meeting designers from all over the globe. Case and point…meeting Lene from Copenhagen, Denmark, and learning about her "magical" line, Vibe's, the likes of which I'd truly never seen before!
The Vibe's studio and shop are located in a quaint two-story terra-cotta colored building built back in 1750. One of the key selling points to Lene was the antique safe from 1820. No, this safe is not used for securing jewelry. In fact, it would be useless considering it has a huge hole in the back of it from a robbery back in the "olden days." No…Lene uses the safe to store her port wine, which she enjoys sharing with special customers. Love that!
So back to the jewelry…the Vibe's line is inspired by the fairy tales of Hans Christen Andersen. When you think of these tales, you envision fairies dancing, mystical animals moving through the enchanted forest, and other whimsical creatures. This is exactly what you'll find in her designs. Check out the exquisite detail in this ring, from the little insect to the tiny sea shell!
And here are some more examples of her rings. Notice the raw, yet carefully curated beauty in each creation.
You'll notice a variety of pearls in her line, from baroque South Sea to Keshi to freshwater. Combined with other gems and brushed 18K gold, the result is quite stunning. Each time you look at her pieces, you'll notice more and more detail.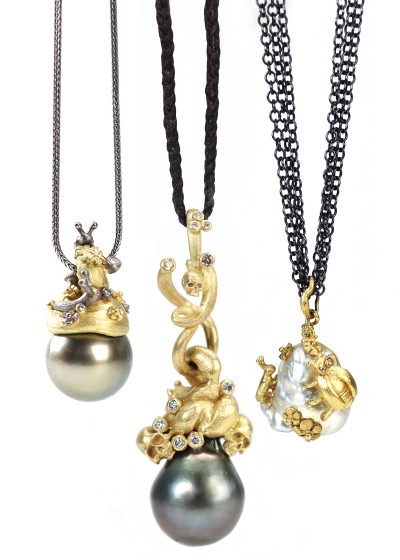 I think part of the reason Lene has such a vivid, fantastical imagination is that she treasures children and appreciates how they see the world. In fact, she always travels with drawings by her 4 1/2 and 7 1/2 year old children.
Personally, I would love to visit her shop in Copenhagen one day. But luckily, I can still see her work in person at one my FAVE jewelry stores in the USA, Fragments in New York City. This store is definitely a must-see on your next trip to the Big Apple!