I know many of you can likely tell me when and where you were when you either purchased or received your first piece of jewelry in the infamous Tiffany blue box. Perhaps a bean necklace by Elsa Peretti? An engagement ring? (Yes, that's you, Brooke!) Or in my case, a pair of silver mesh dangling diamond-shaped earrings. Tiffany T is a new line that just launched, and I have a feeling it's going to become a classic for this storied jewelry house.
You have been seeing ads for this line across media platforms for the past couple months, but you can now go see, try it on, and buy it at your local Tiffany & Co. store. The photo above shows three of their bracelets: the medium wire bracelet in 18K rose gold, the square bracelet in sterling, and the wired bracelet with diamonds in 18K yellow gold.
Designed by Tiffany's Design Director, Francesca Amfitheatrof, this line "is simple, but not simplistic." I agree. Here's a shot (photo credit: Martin Cook) of the sterling and black ceramic ring stacked with an 18K white gold diamond ring.
Francesca joined Tiffany in 2013, and she has an impressive background, having worked with big labels from Fendi to Chanel to Marni. As a trained jeweler and silversmith, she said the T collection's, "…message is bold, unapologetically modern and fueled by an American ethos of design so considered and refined it appears effortless."
I particularly look forward to seeing these sterling silver cuffs. I can see the thinner one being lovely mixed into a bracelet stack, can't you?
This gold and diamond wire
ring
is so sweet.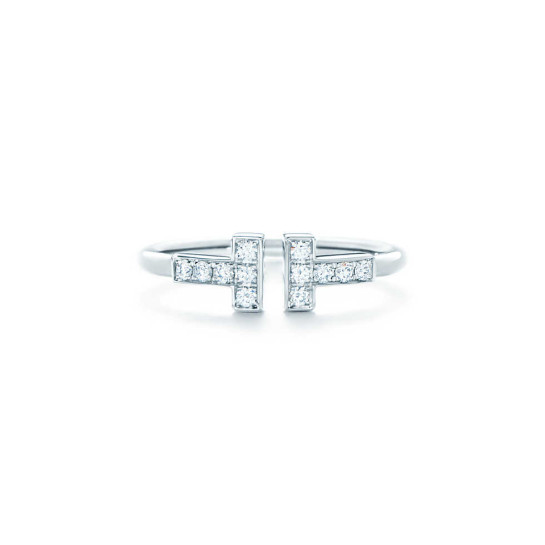 I'm going to keep my eye out when I'm out and about to see if I can spy this collection hitting the streets. Do you see yourself purchasing it? Would it fit into your personal style? Do tell!