My caftan collection has grown by leaps and bounds the past few years. Why do I like wearing them? Well…they are very comfortable, breezy, figure-forgiving, and they just put me in a festive state of mind.  Gotta love a piece of clothing that does that, right?  I've worn them during the day, to weddings, to parties, you name it. If you've never considered wearing one, I thought I'd show you some ways to style them, from head to toe. But first things first; you may find caftans in the swimwear section, the sleepwear area, or in with regular merchandise. But don't pigeon-hole them just because they came from a department you don't normally consider for clothing to wear out of the house or beyond the beach. It's all about how you put your look together!
First, let's look at a couple caftans that have a print. Two that caught my eye are these from Scotch and Soda (the white one with pink and green trim) and Theodora & Callum (the animal print with turquoise trim).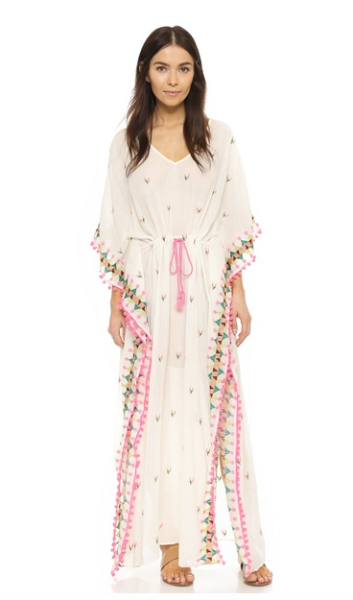 So what type of shoes would you wear with these? I would opt for a fun flat, either with
embellishment
if you want to take it up a notch, or perhaps with
some fringe detail
for a more bohemian feel. (But don't worry, heels can work too!)
You may also want to go solid-color for your caftan of choice. I found two gorge white numbers in the swim cover-up area. The one by
Florabella
has some unique lace insets, and the one from
Ondade Mar
has crochet stripes and a nice drawstring right under the bustline, which is a very flattering detail.
Now don't worry — I'm not going to send you out of the house in a sheer caftan! I have found the
perfect
solution to this issue with
Natori Shangri-La nightgowns
. Yes, you read that right, a nightgown. I personally own two in black and two in nude. I have hemmed one of each color to above the knee to accommodate shorter caftans and other sheer dresses. They are machine wash/drip dry and soft as can be, along with having adjustable straps. They skim over your curves, instead of clinging to them, and they provide an alluring, yet appropriate silhouette under the caftan.
For these two white caftans, I'm thinking Grecian sandals for the shoe. You can easily go with a flat or with a heel.
Splendid
has a cute flat, as well as
Rebecca Minkoff
if you don't like anything between your toes.
Sofft
(one of my favorite comfort lines) has a modified Grecian wedge if you'd like some height.
Now what about
jewlery
?? This is another aspect of the caftan I simply adore. It calls for you to pile it on a bit! You can do big earrings, an armful of bangles, and even a long swingy necklace! Here are some key pieces that would pair well with your caftan. First, let's look at earrings. I love long earrings with my caftans. You can find options ranging from more simple, to bold and colorful. Here are possibilities along that spectrum from
Shashi
,
Theia Jewelry
,
Aurelie Bidermann
,
Adia Kibur
and
Deepa Gurnani
.
For bracelets, one of the key factors is to select those that won't "catch" your dress fabric. Delicate fabrics (which many caftans are) require bracelets that are smooth to the touch, so be particularly careful of stones with prong settings. You can go with bangles, cuffs, or a combo. Anything from sculptural to beaded can work, depending on your personal style. Here's some pieces from
Elizabeth and James
,
Kenneth Jay Lane
,
Argento Vivo
,
Lacey Ryan
and
Karine Sultan
to get you thinking.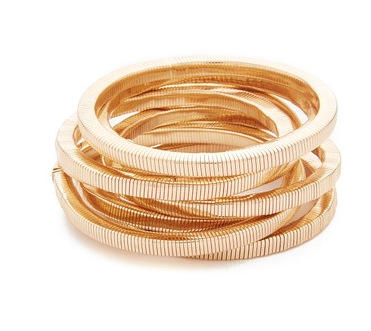 Depending on your earring choice, you can select a necklace that is more delicate, such as this one from
Tai
.
…or go big with a statement necklace (though be careful to select complementary, not competing earrings) from
Elizabeth Cole
.
…or take this opportunity to play with the tassel trend, from
Madewell
to
Luciana
.
Your choice of rings is purely a matter of personal style, and you really can't go wrong with anything from simple to stacking to a bolder option. They key to the whole jewlery selection is to choose pieces that blend, rather than "match." Consider your style — more simple and sleek? Dainty layers? Bohemian? Avant garde? A caftan is the perfect backdrop to really showcase your personality with the accessories you choose.
So on that note, I need to head to my closet. I've got a trip to Las Vegas coming up, and I need to see which of my lucky caftans will have a chance to come party with me!